Metal Mayhem ROC community,
As we build the Metal Mayhem ROC Brand to the highest of standards, we had the privilege of being invited by the official Metallica camp to be included in their Friends & Family MetLife weekend celebration. With this honor, we were granted VIP lounge access where we networked with so many wonderful people who have been there for it all, both past & present, over the bands' 40-year history, as well as Snake Pit passes for the shows. Publicists, Press Reps, band Media, members of Testament, legendary NYC Photographer Frank White, the Old Bridge Metal Militia & extended family of Jon & Marsha Zazula, just to name a few. It was a once in a lifetime experience and its a privilege to share it with you.
The start: The Metallica machine rolled into MetLife Stadium on Tuesday morning August 1st to start assembling the creation of this masterpiece, a setup so innovative & nothing like any of us has seen before. Shortly after, Metal Mayhem ROC Show hosts Jon "The VERNOMATIC" Verno and Metal Walt embarked on what would be a crazy , event filled 3 days that would far exceed our expectations!
Friday 04 Aug, 2023:
Pre-show concert: The Friday event started with meet up's with old friends, listeners of the Podcast and Radio Show. Festivities kicked off in G5 with a parking lot set by NYC metal veterans Prong, offering early arrivers and tailgaters a headbanging show before they entered the main event in the football stadium. Prong at 3:30 PM delivering a blistering 12 song 60 min set on the blacktop you say? Damn straight!
Loyal Show listener Jimmy " Jimmy From The Bronx" Neff
Metal Walt and MMROC Show contributor Vince McDowell
Vince with Prong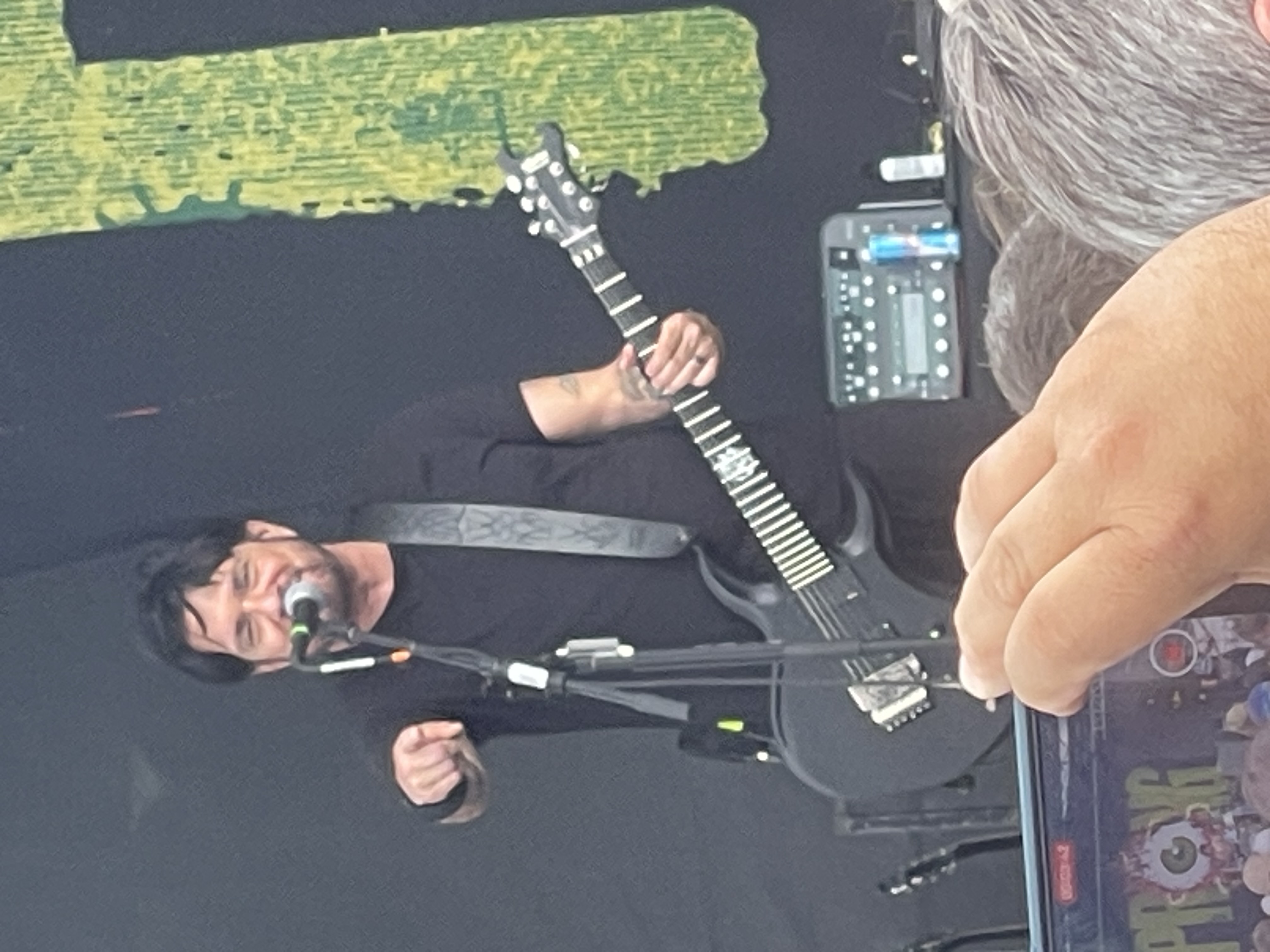 Tommy Victor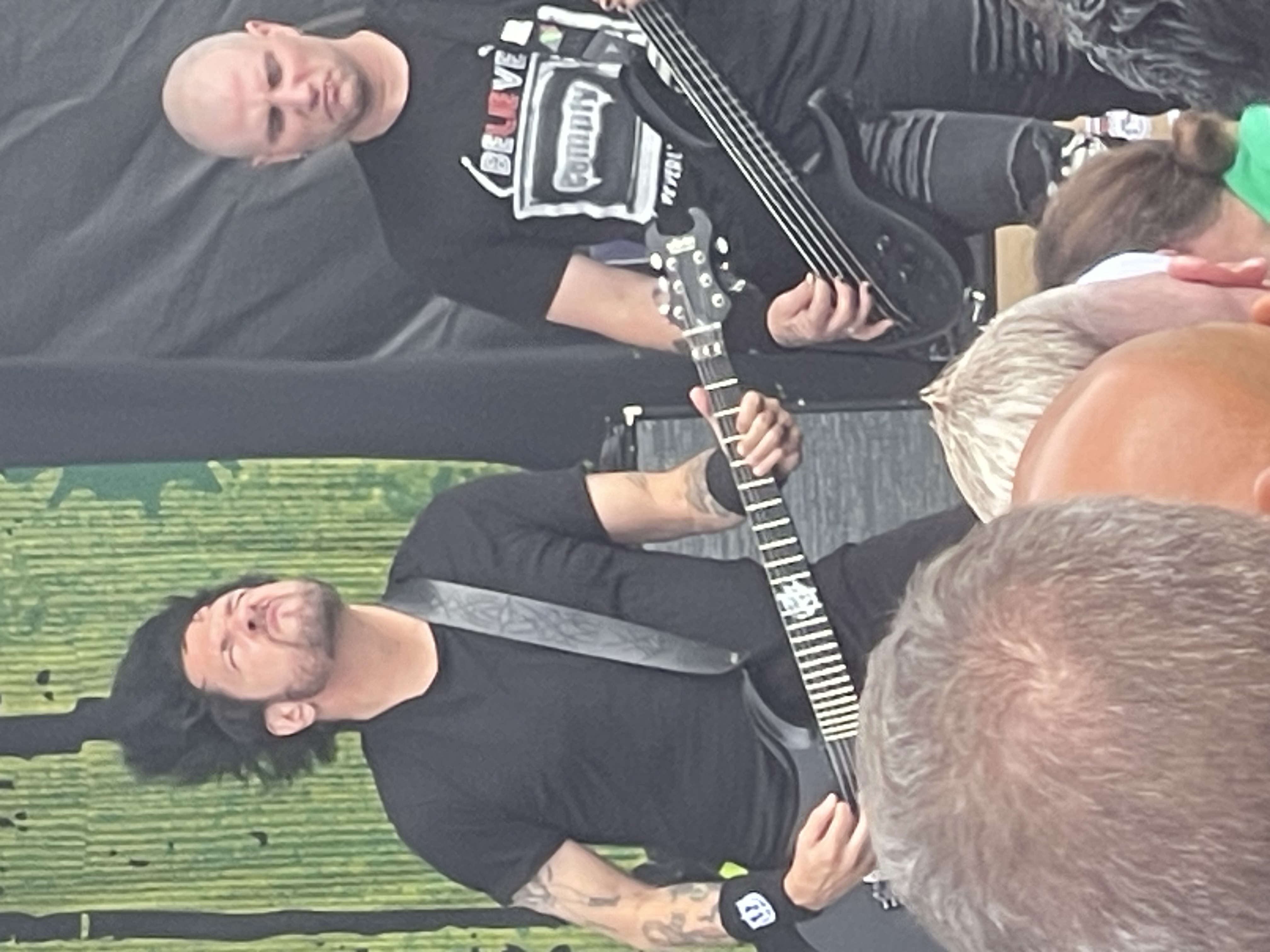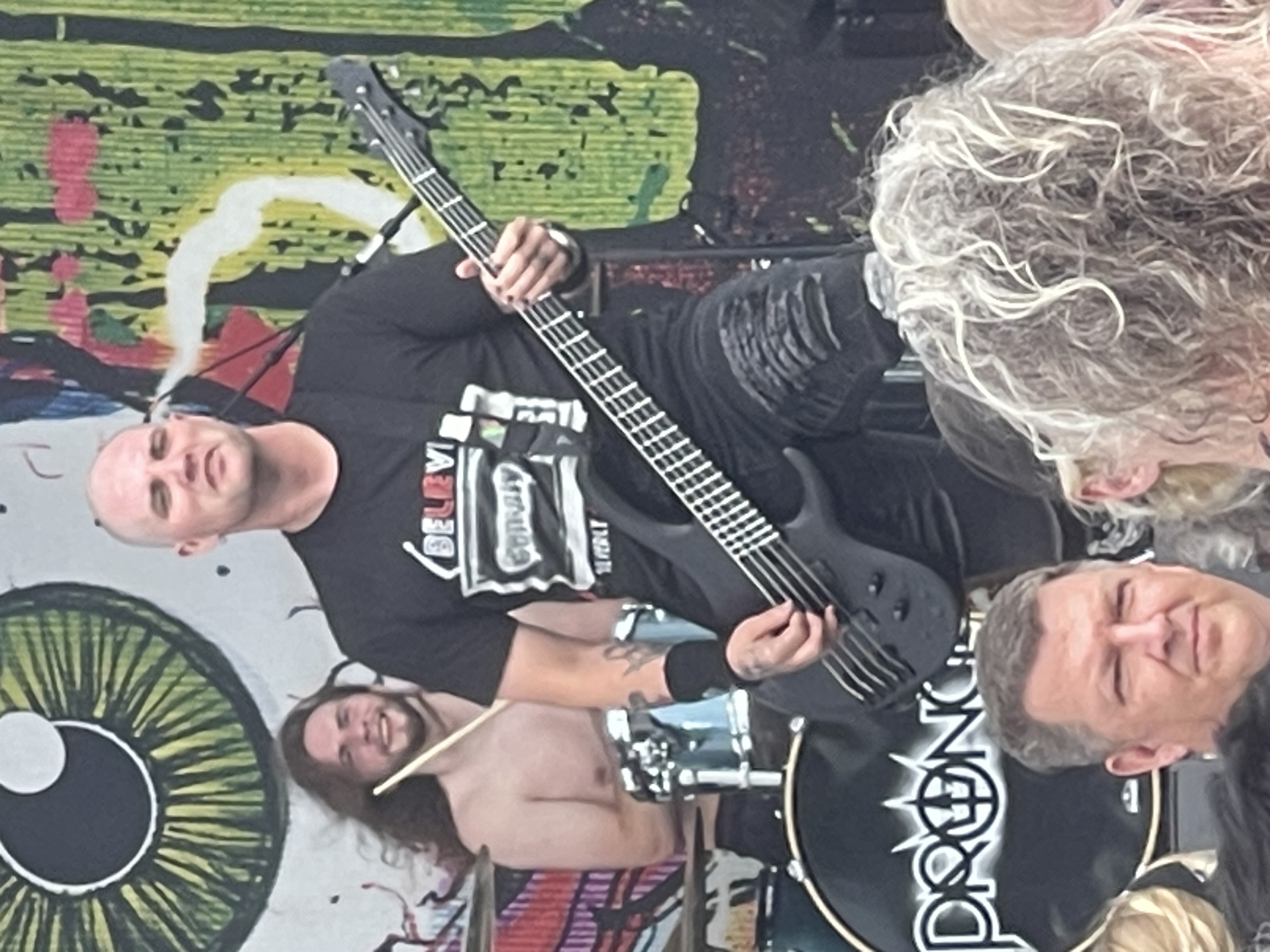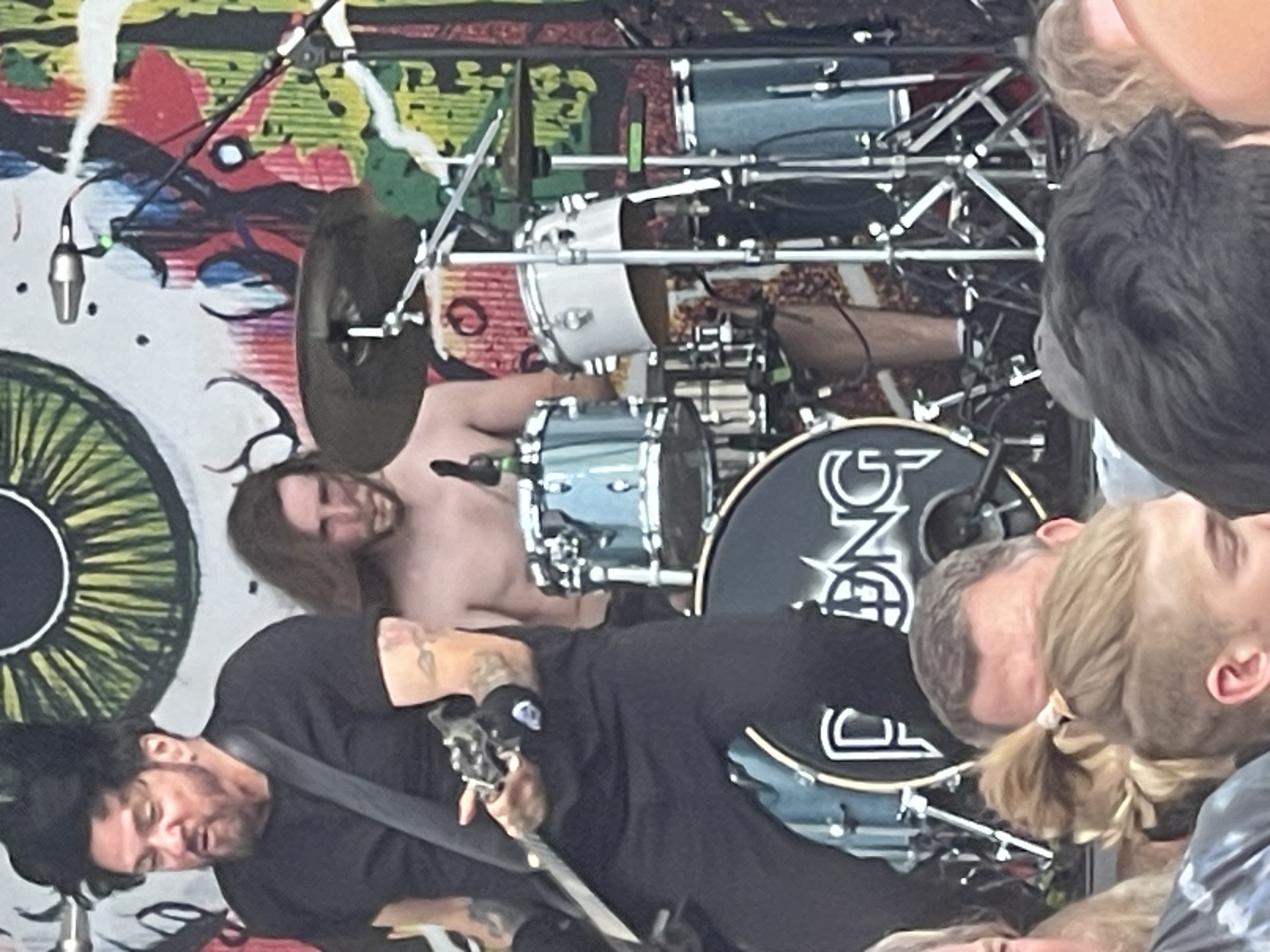 Mammoth WVH: Inside the Stadium, the crowd was treated to an opening set by Mammoth WVH, as frontman Wolfgang Van Halen rocked through songs from the act's 2021 self-titled debut and the just released sophomore album, "Mammoth II". Good Singer, great Guitar playing, killer band and accessible songs are a good recipe for success & playing to a massive stadium crowd certainly helped cement the reputation of the band.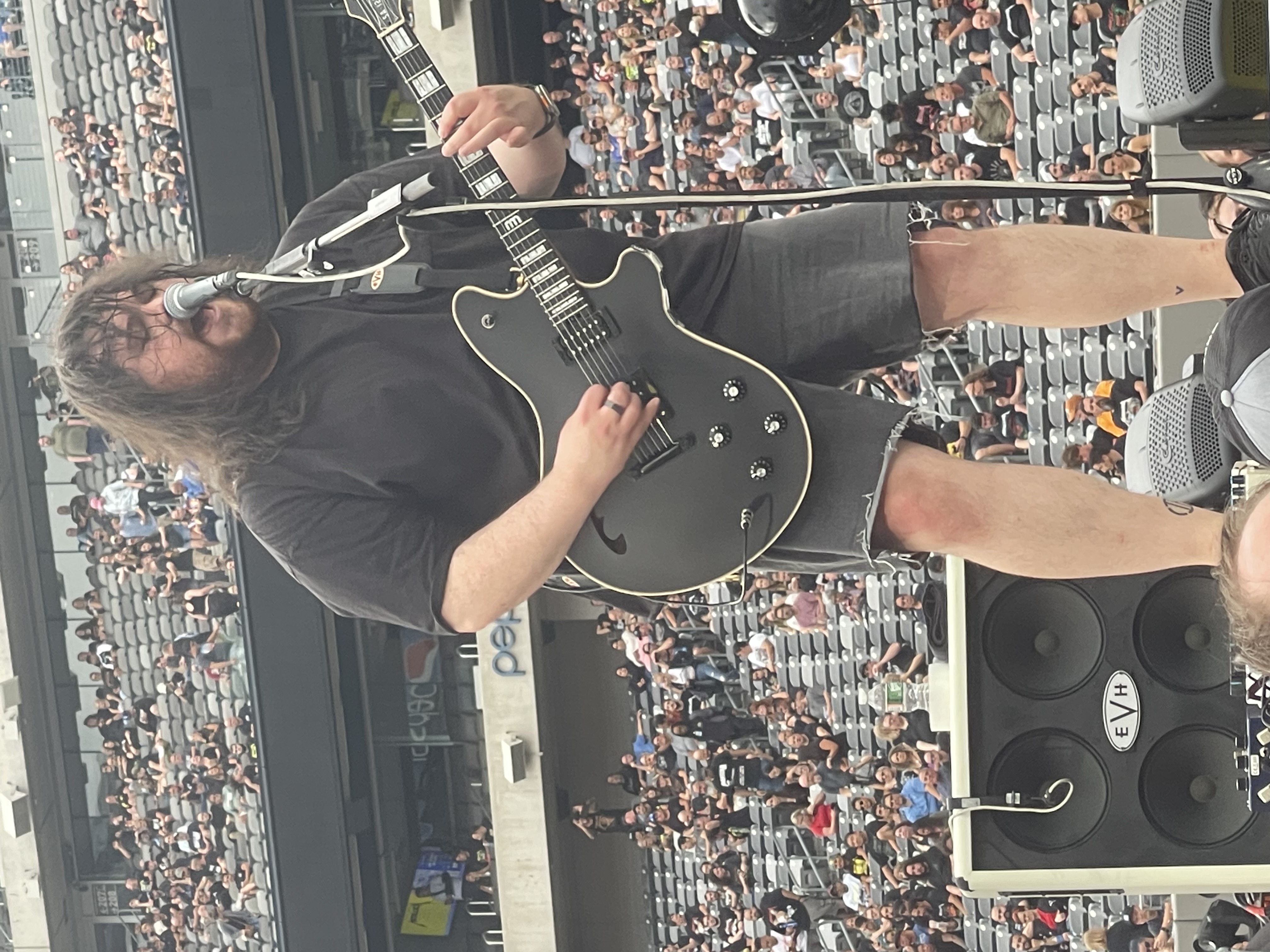 Wolfgang Van Halen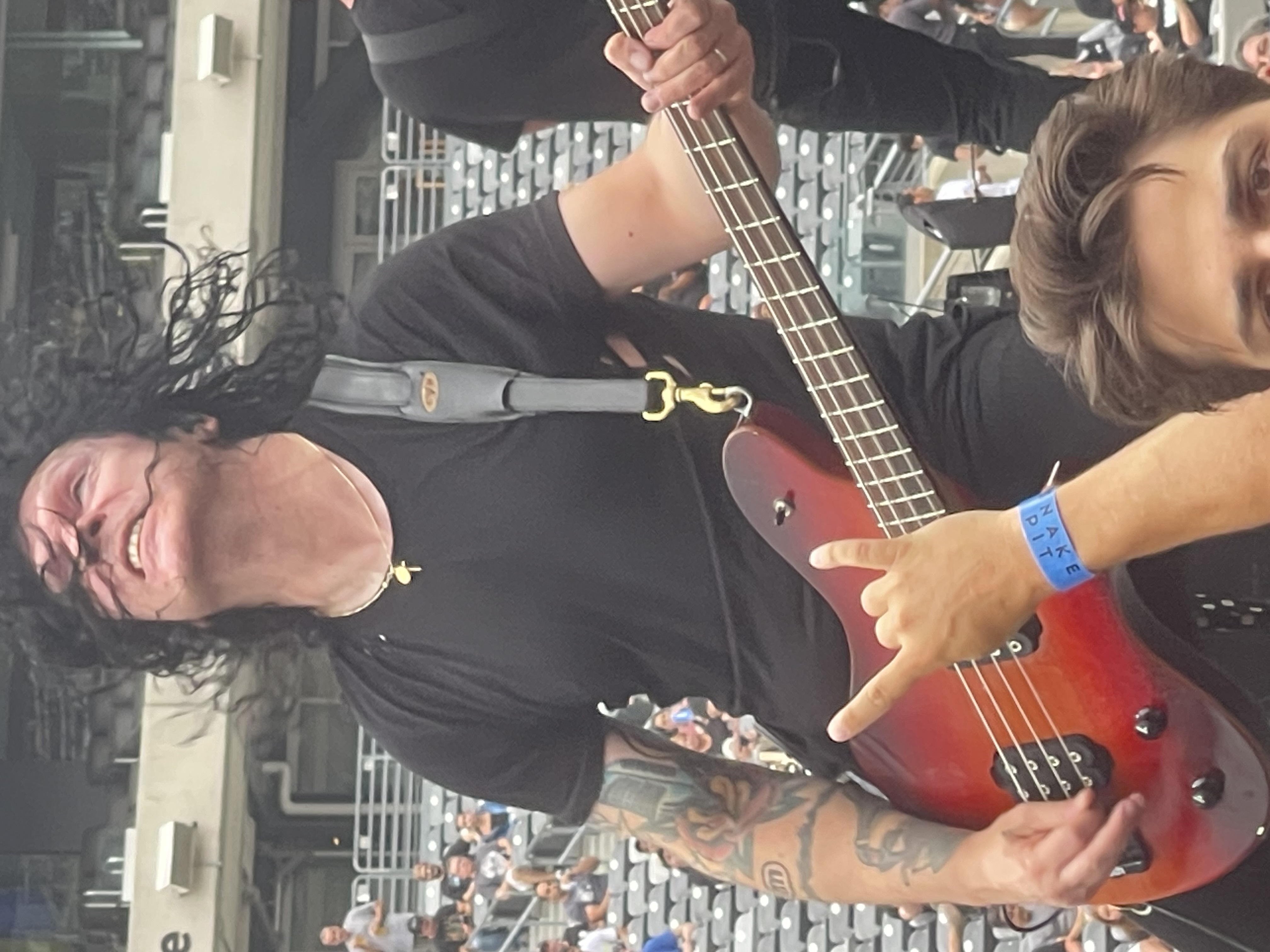 Bass Player Ronnie Ficcaro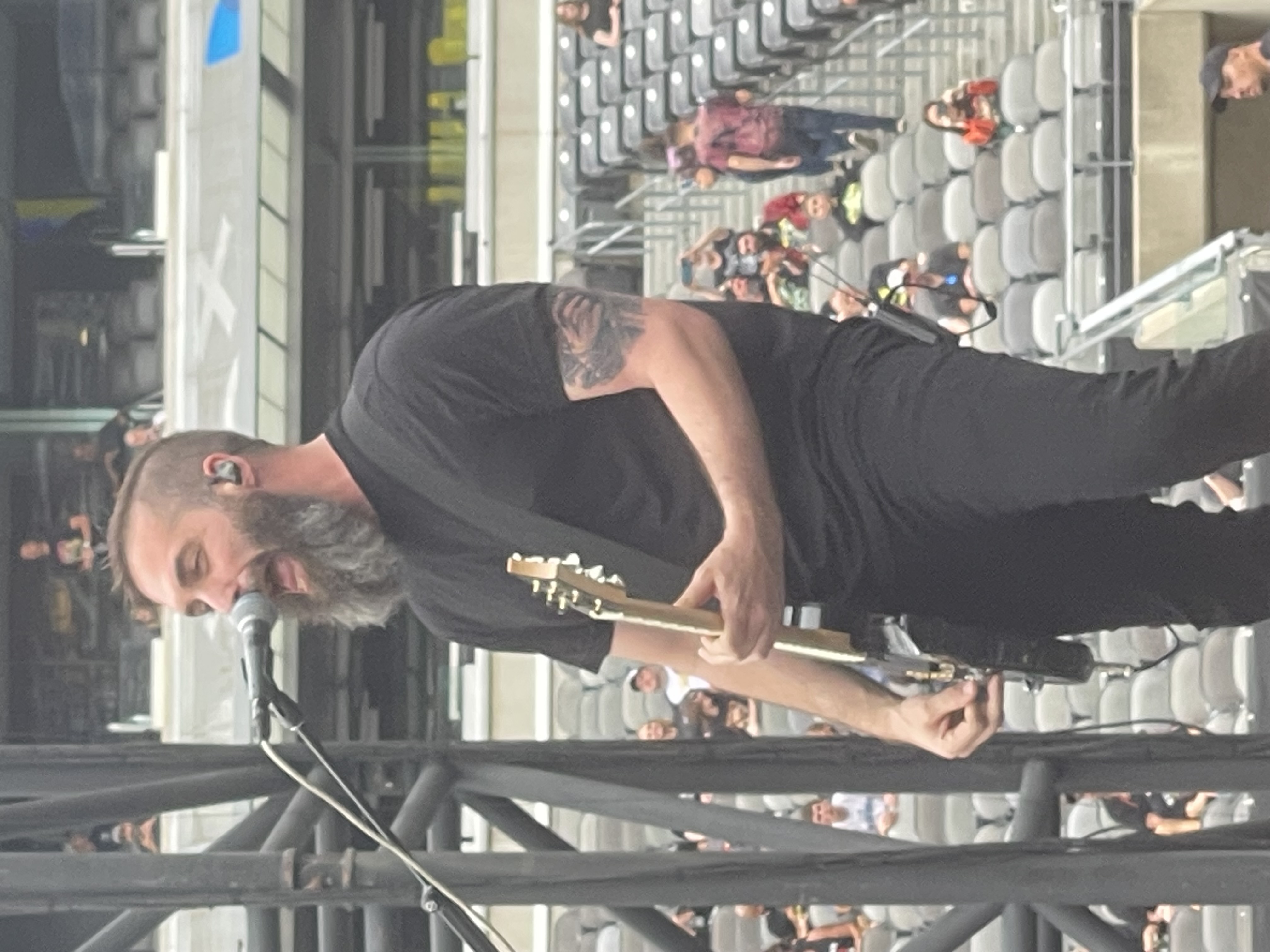 Guitarist Jon Jourdan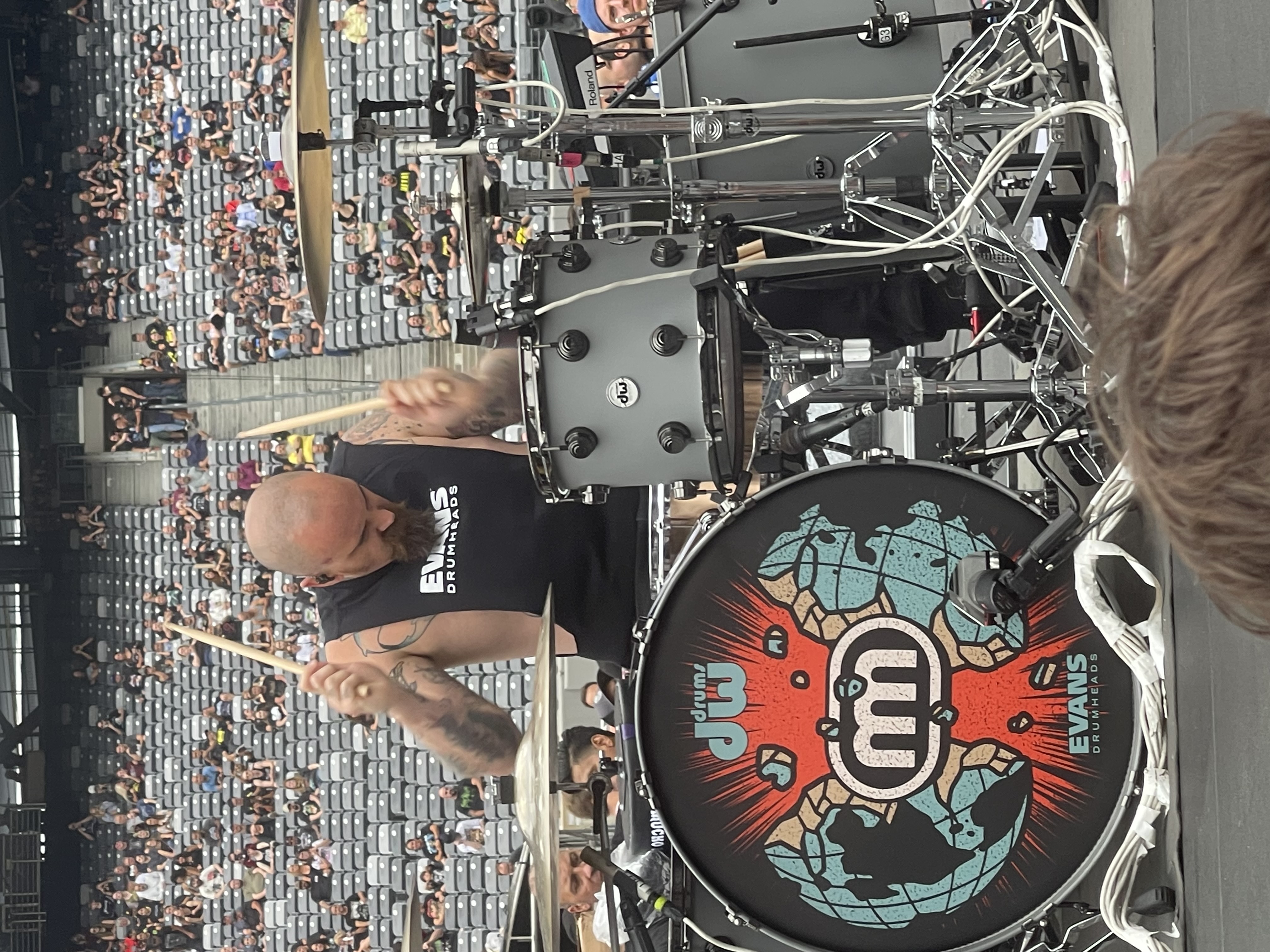 Drummer Garett Whitlock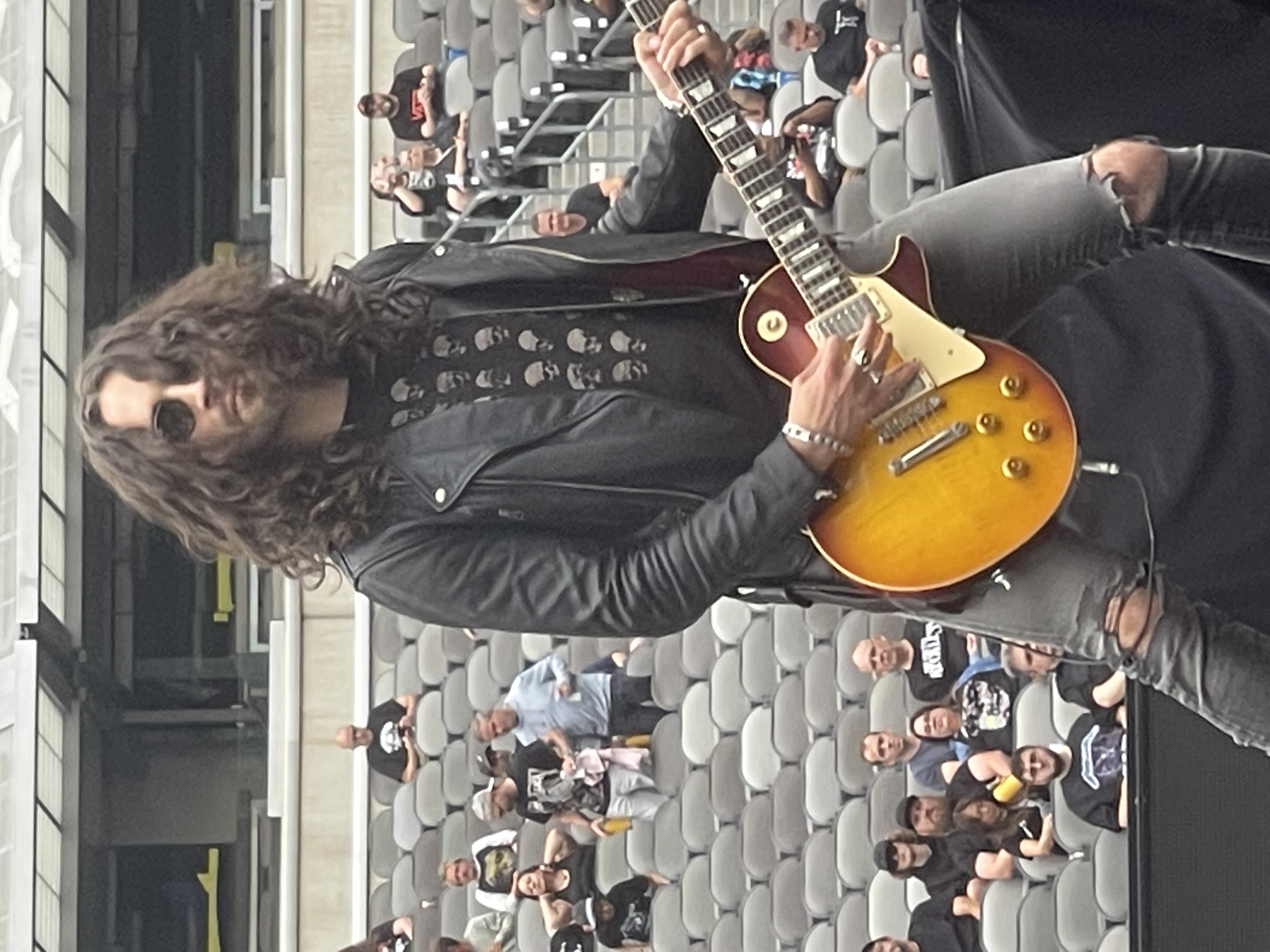 Guitarist Frank Sidoris
Vernomatic was even able to share a laugh with Valerie Bertinelli. It doesn't show it in the pic ,but we did laugh over a joke I made.
PANTERA (a tribute to Vinny and Dimebag): To the fans, this was no ordinary middle slot opening act, as we were treated to a one hour set by a band currently touring the globe as a headlining act. Four metal legends paid the ultimate respect to their fallen brothers, as a lineup of Pantera members Philip Anselmo & Rex Brown, alongside band friends Zakk Wylde and Charlie Benante rocked through a 10-song set that featured favorites "A New Level", "I'm Broken", "5 Minutes Alone", and "Walk", amongst others. It's been a long time coming waiting for these songs to be properly played live again, as Zakk & Charlie were the perfect choices to carry the band forward. Perhaps even more moving was the seriousness & intensity of the two them, as they truly played from the heart. The crowd was really into it, a thoroughly impressive experience to say the least!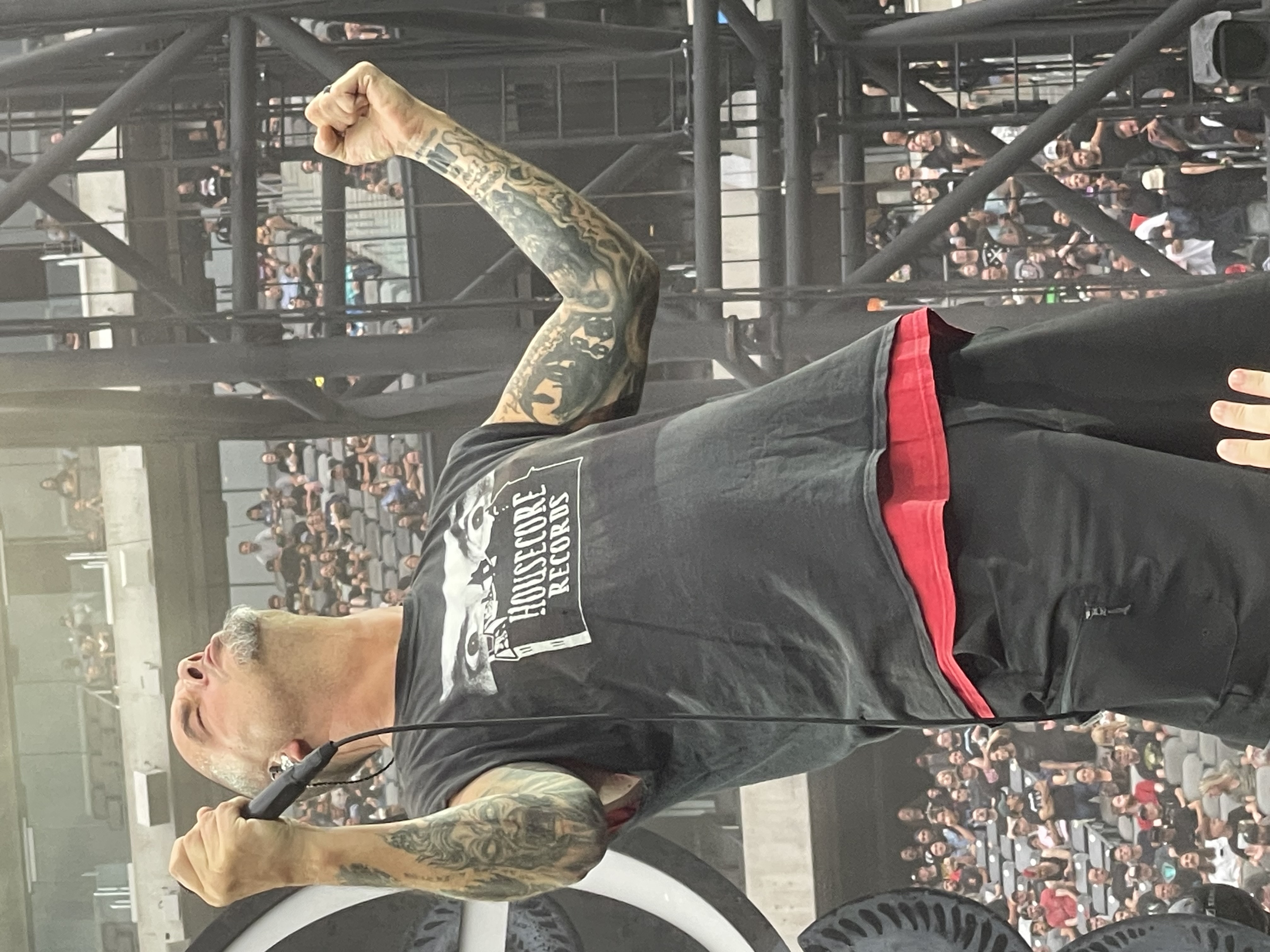 Phil Anselmo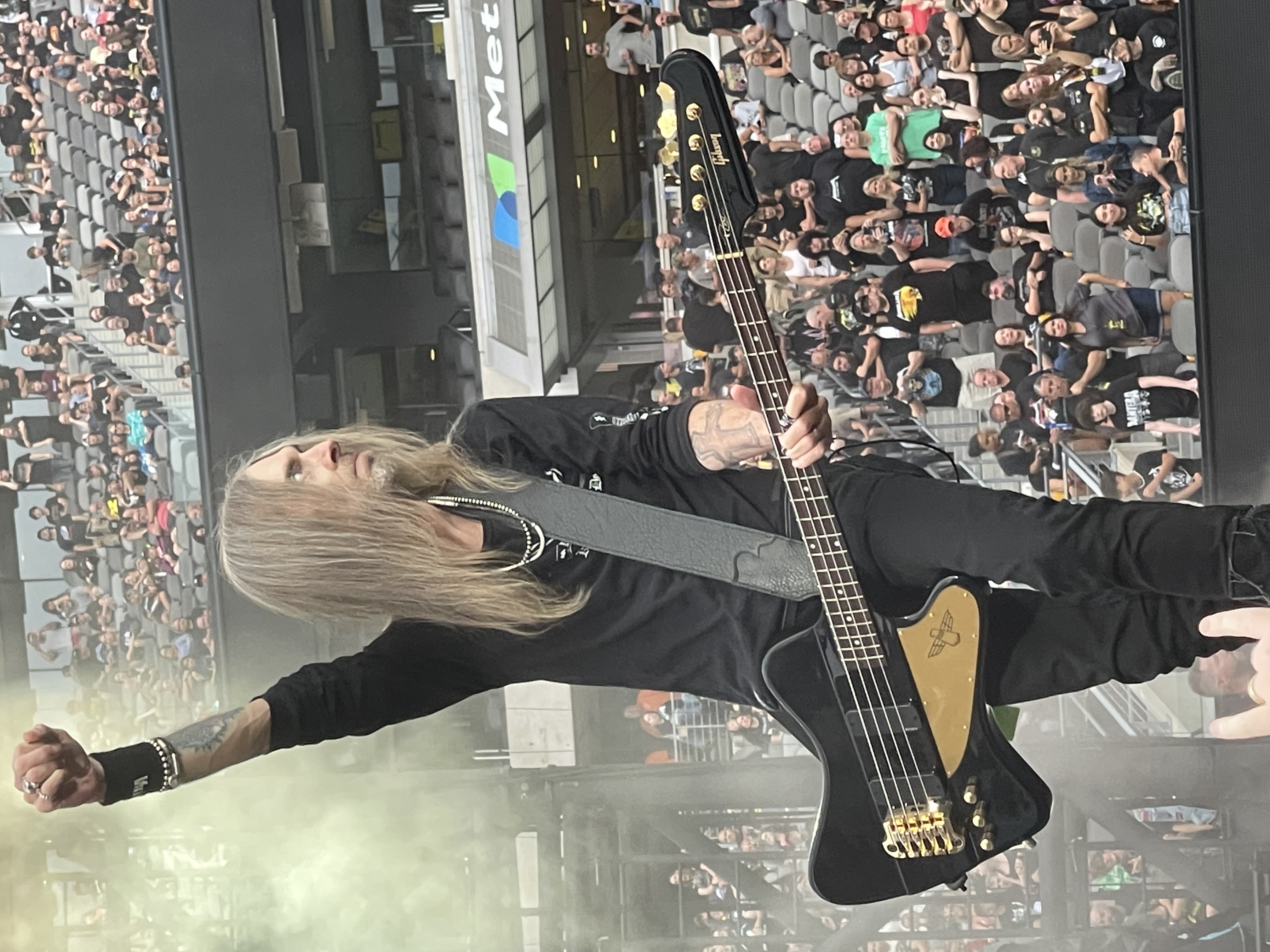 Rex Brown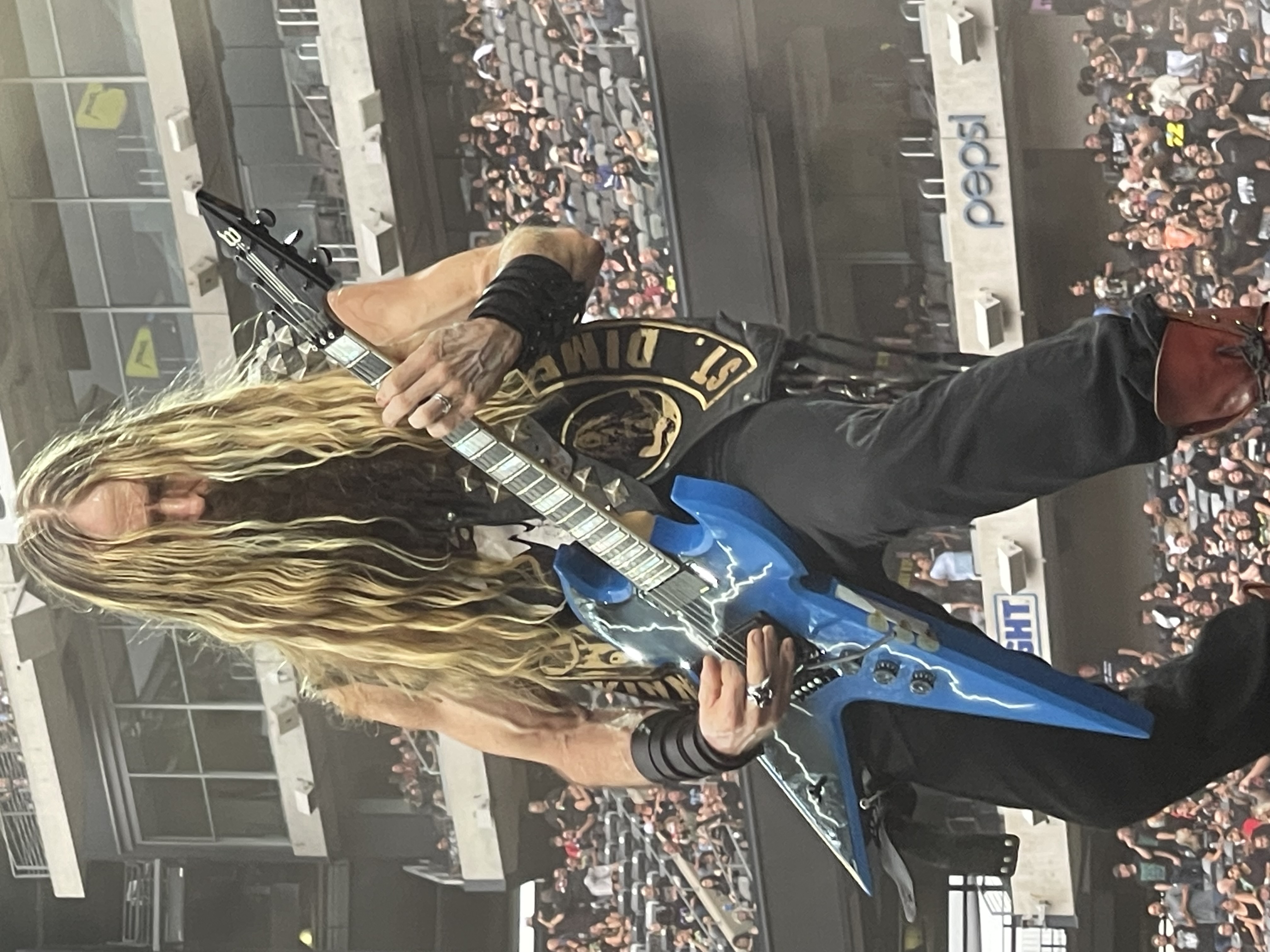 Zakk Wylde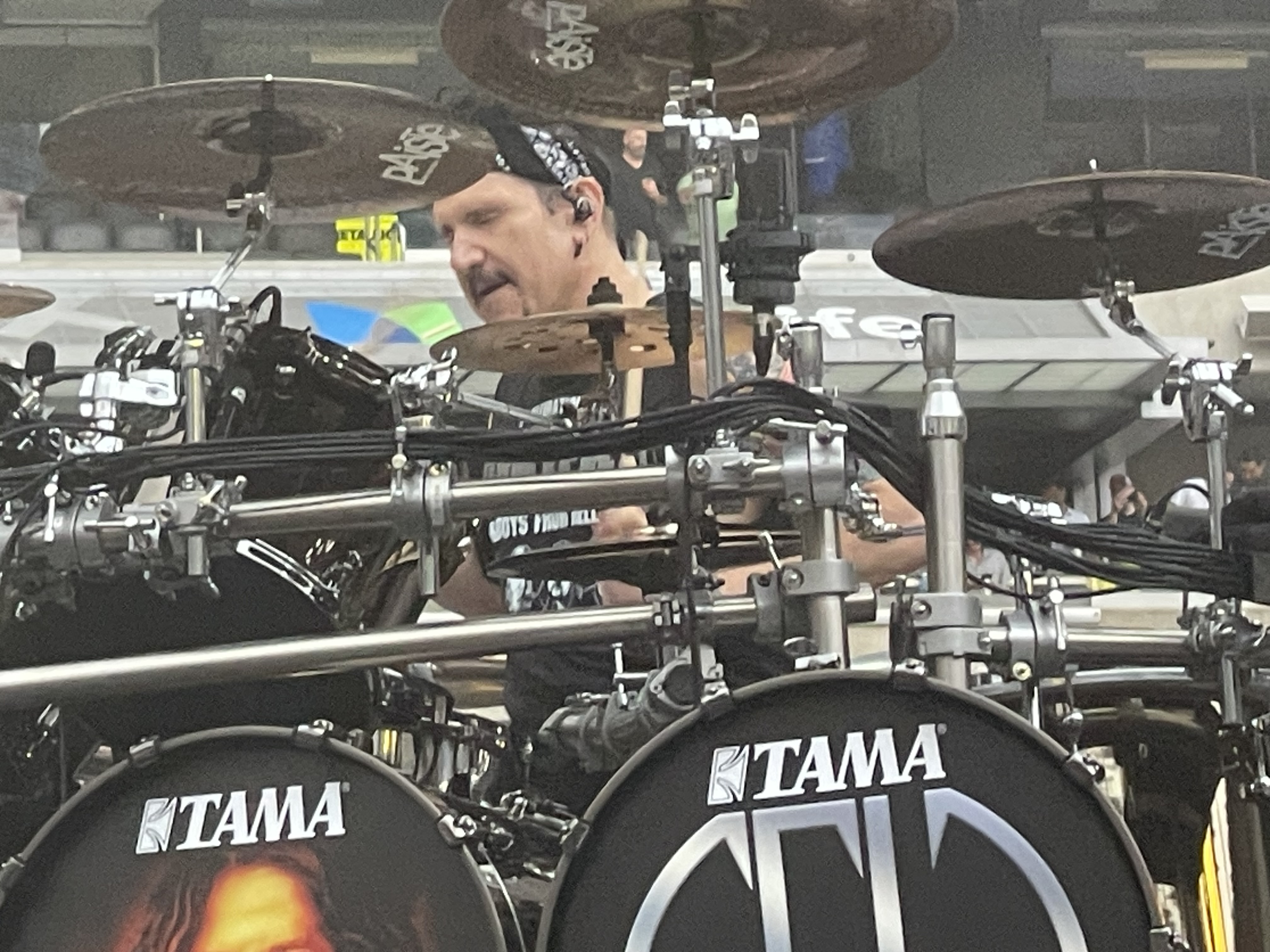 Charlie Benante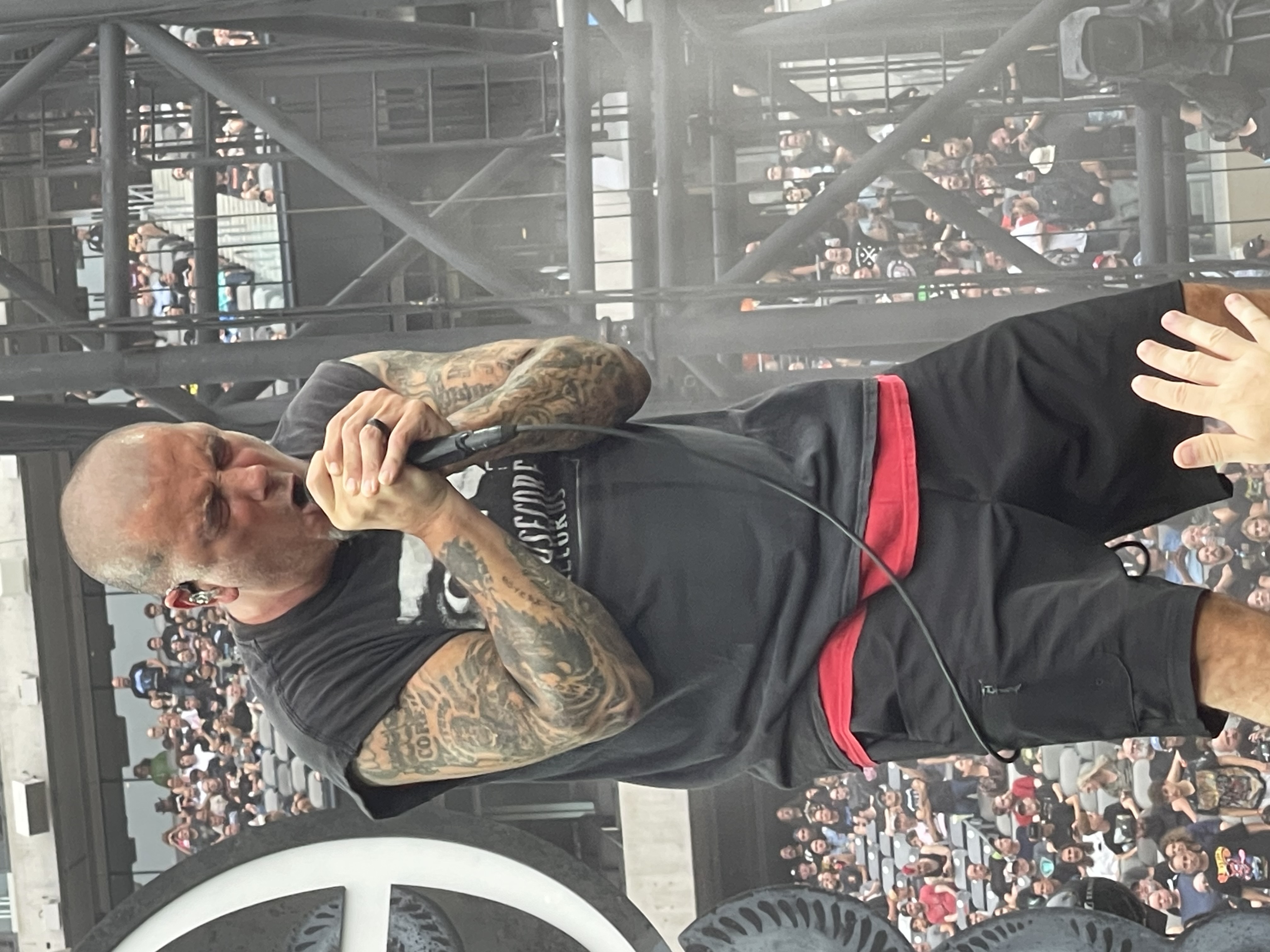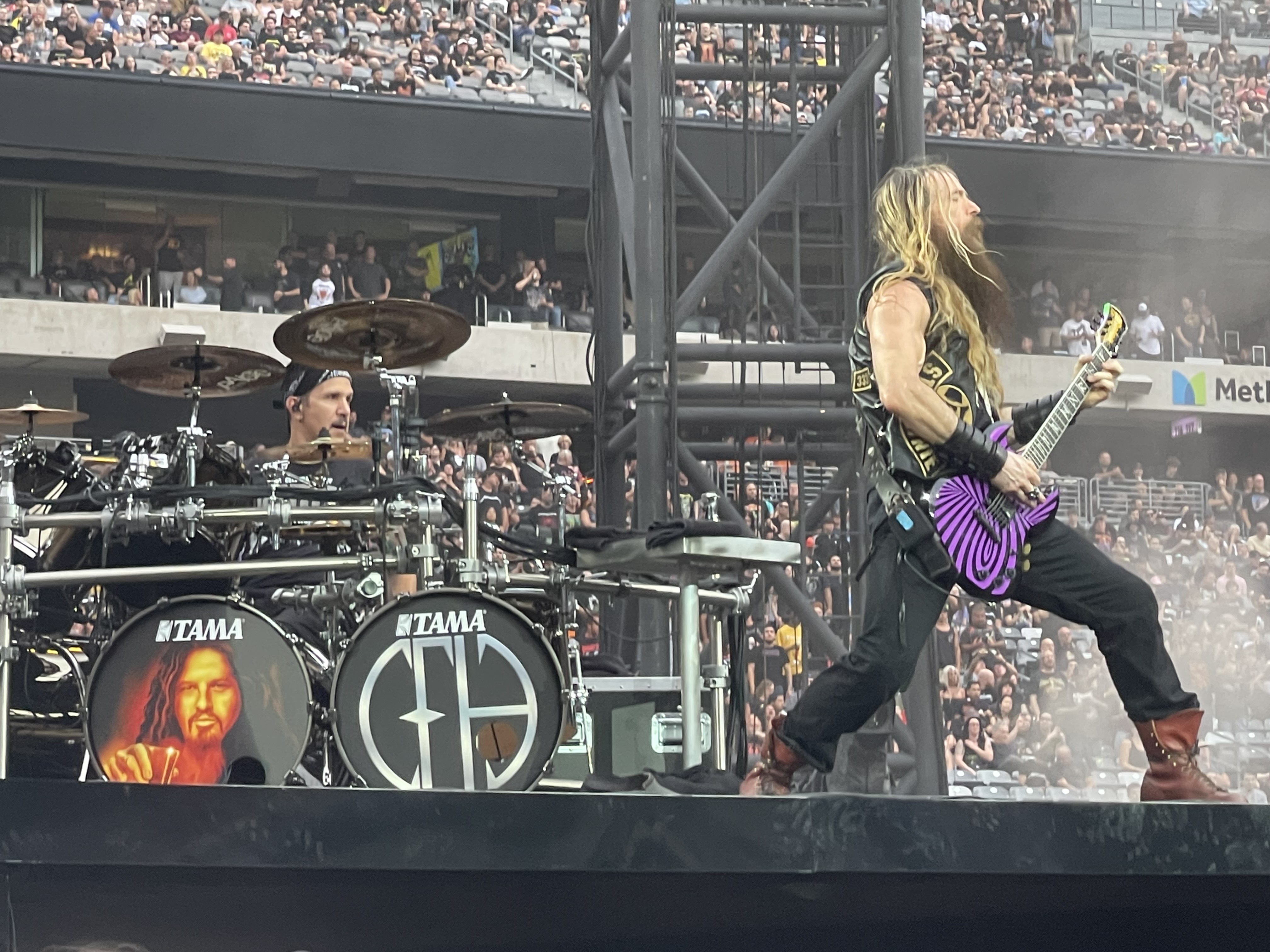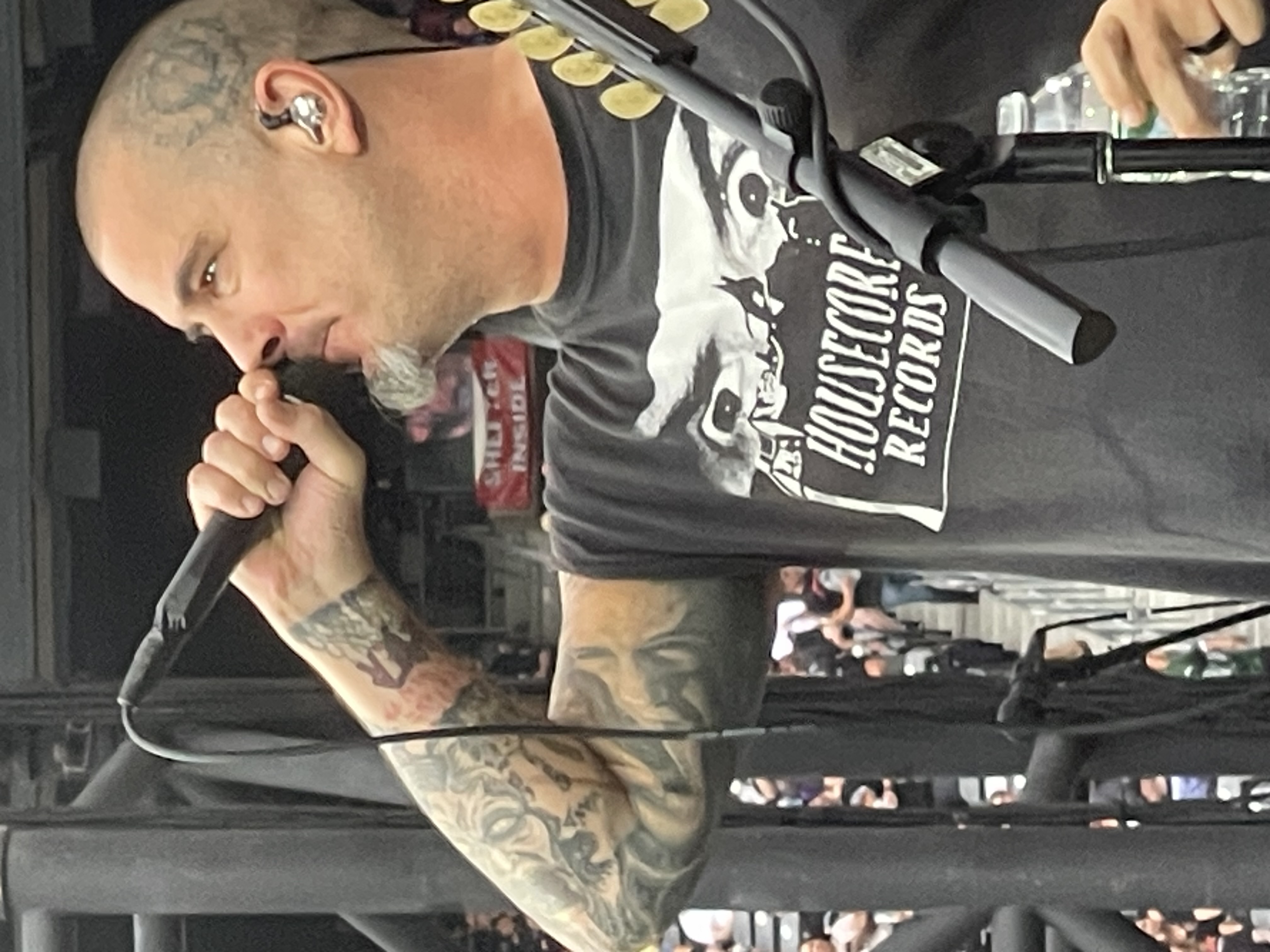 Metallica: As the familiar bagpipes of AC/DC's "A Long Way To The Top If You Want To Rock N Roll", followed by "The Ecstasy Of Gold" blared through the PA, the mighty Metallica was set to begin & we were off to Never, Never land! At roughly 8:45 p.m., Metallica took the stage, kicking things off with "Creeping Death", "Harvester of Sorrow", & "Hollier Than Thou". The band then showcased three songs from their latest album, "72 Seasons": the title-track, the epic "If Darkness Had A Son," and the live debut of "Shadows Follow" amongst the 16-song set. Prior to performing "Fade to Black", Hetfield thanked the crowd for remembering his birthday, which took place a day earlier. "60 years old, I can't believe it. The young me would be saying, you made it, you freaking made it, dude". "Seek & Destroy" & a rousing performance of "Master of Puppets" concluded the show, with the evening ending with Lars remarking on this being the largest ever Metallica NJ crowd (80,000) & calling attention that the roots of the band may have been from northern California, but the band cut its teeth & came of age 40 years ago in Old Bridge, NJ! A classy touch to warm the hearts of the local crowd.
Lars Ulrich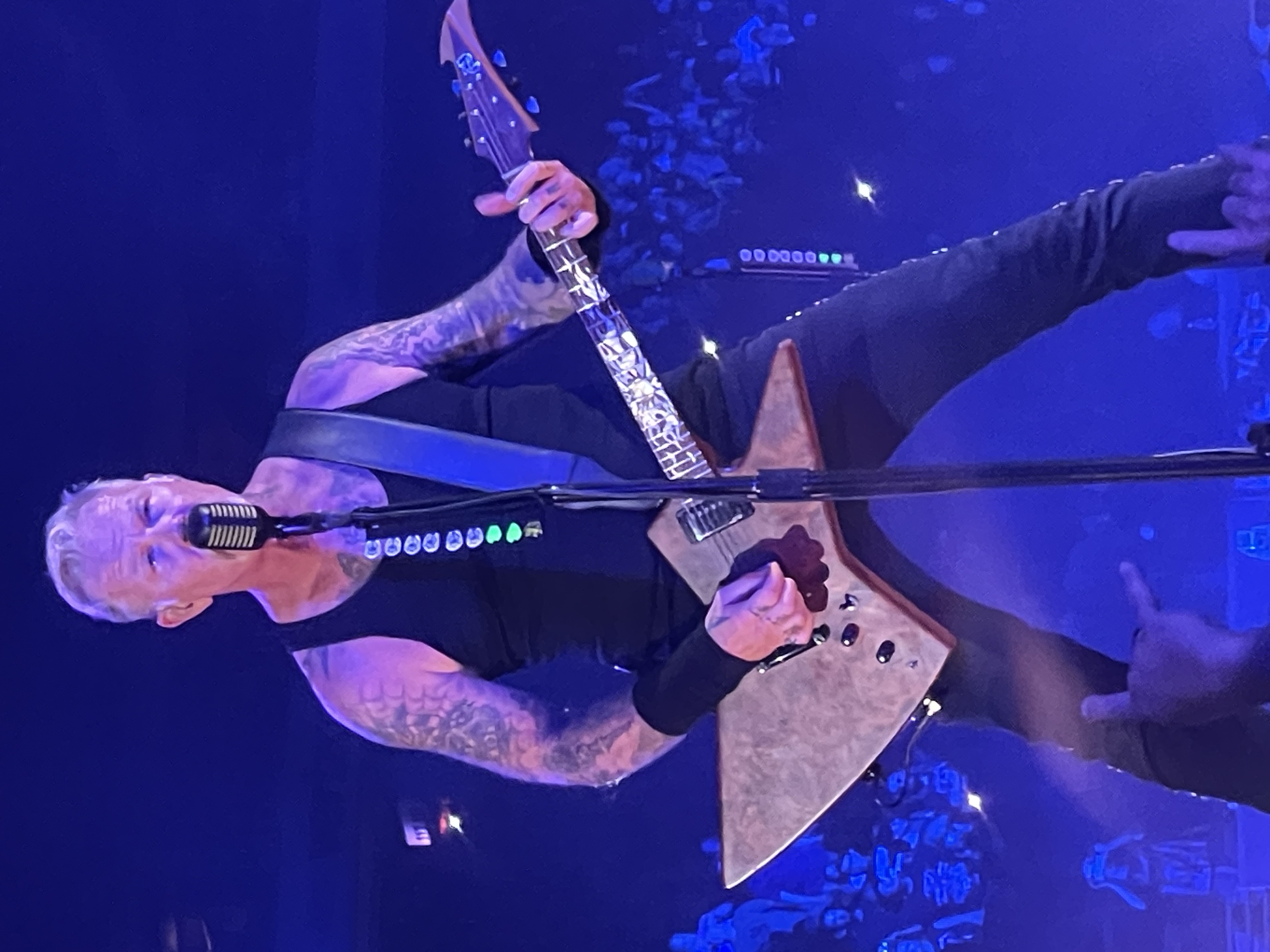 James Hetfield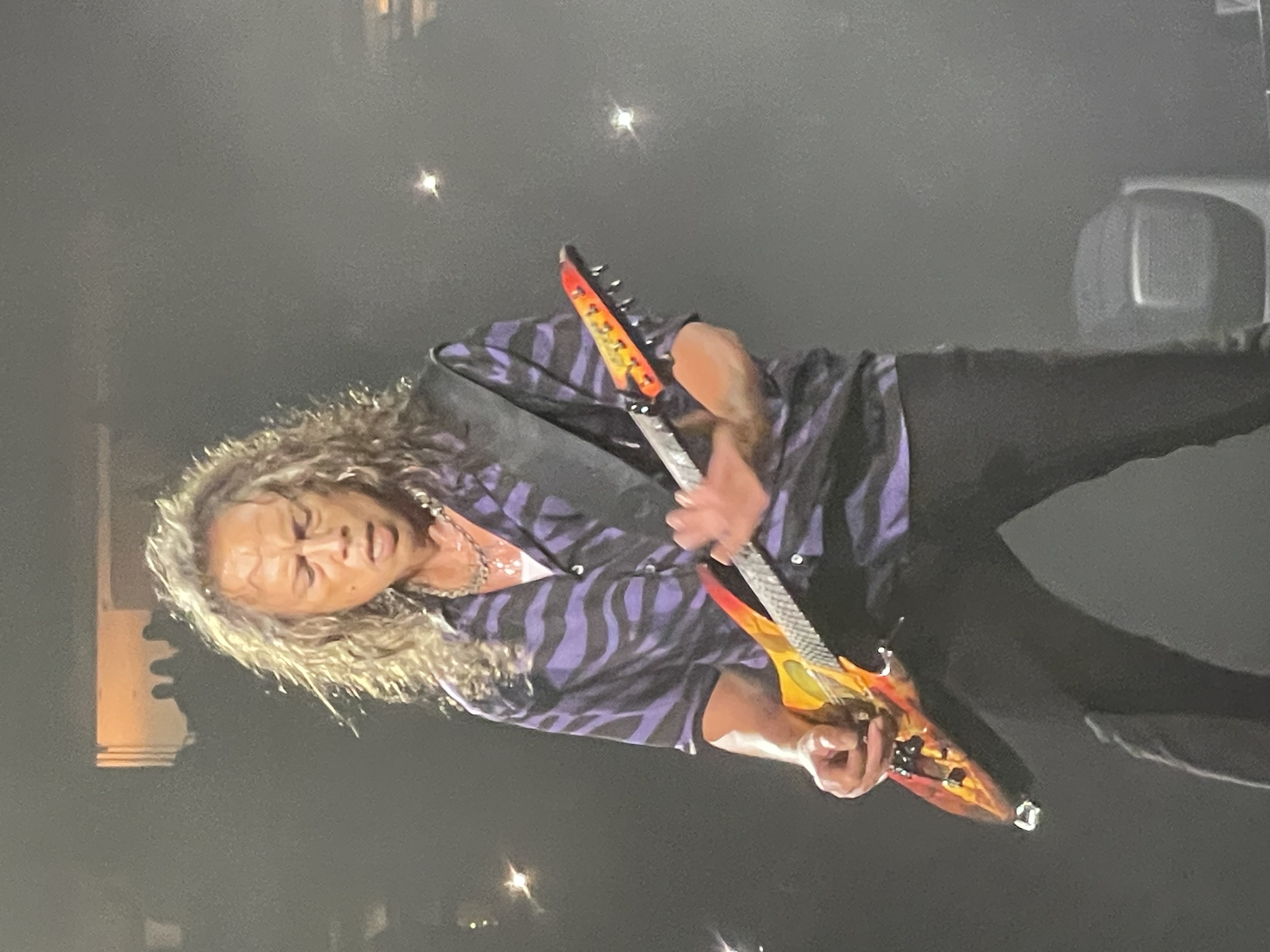 Kirk Hammett
Rob Trujillo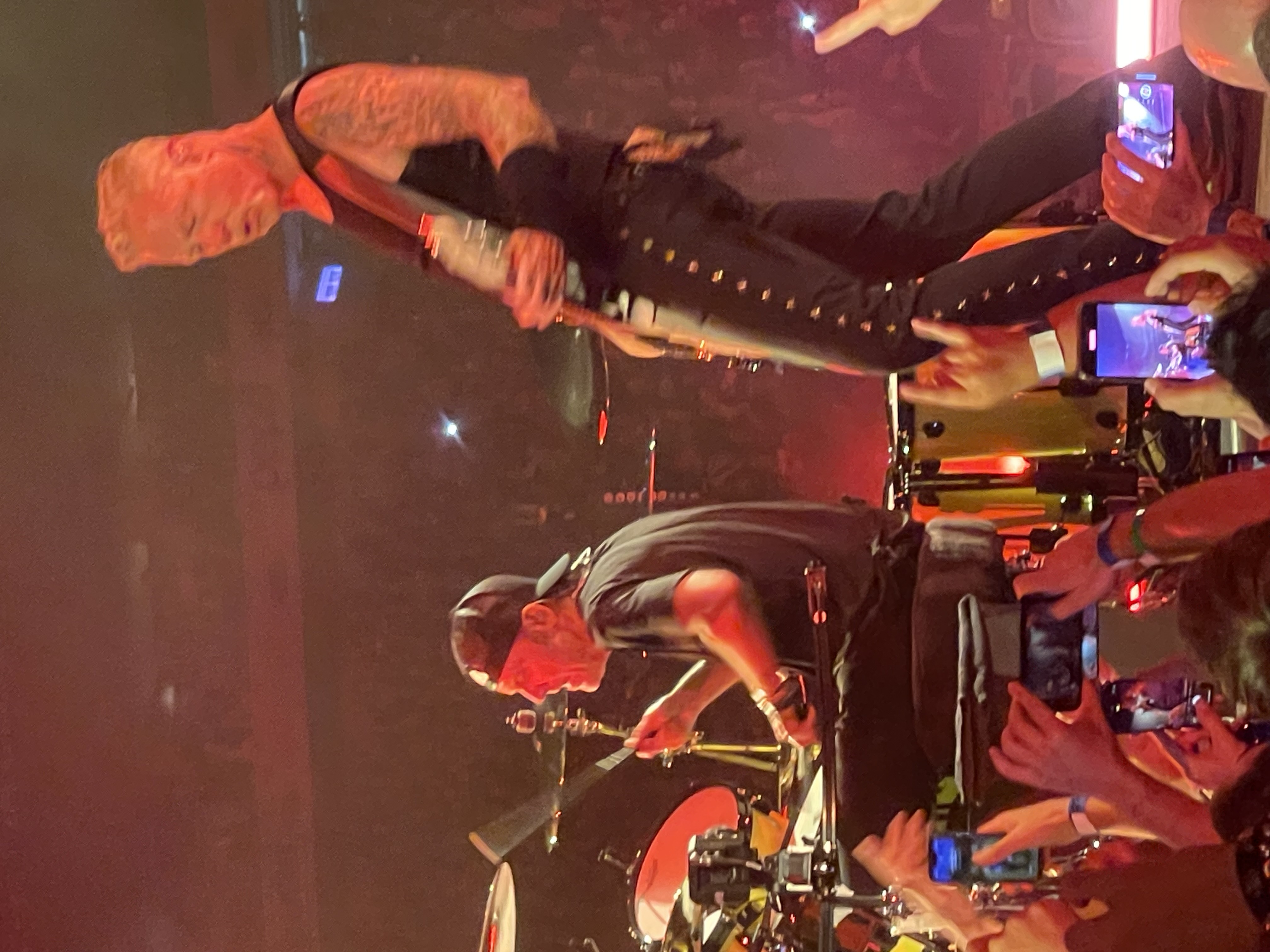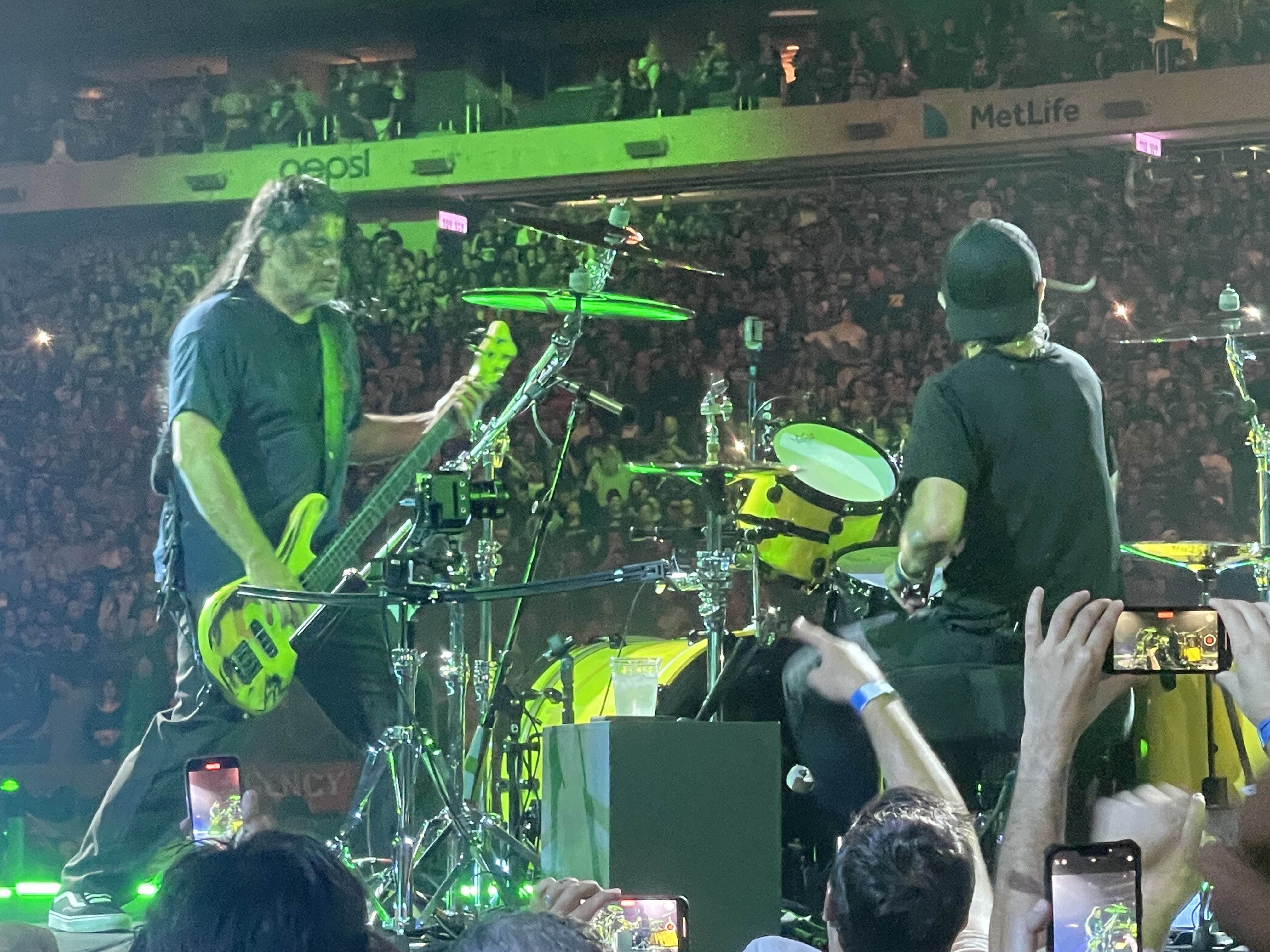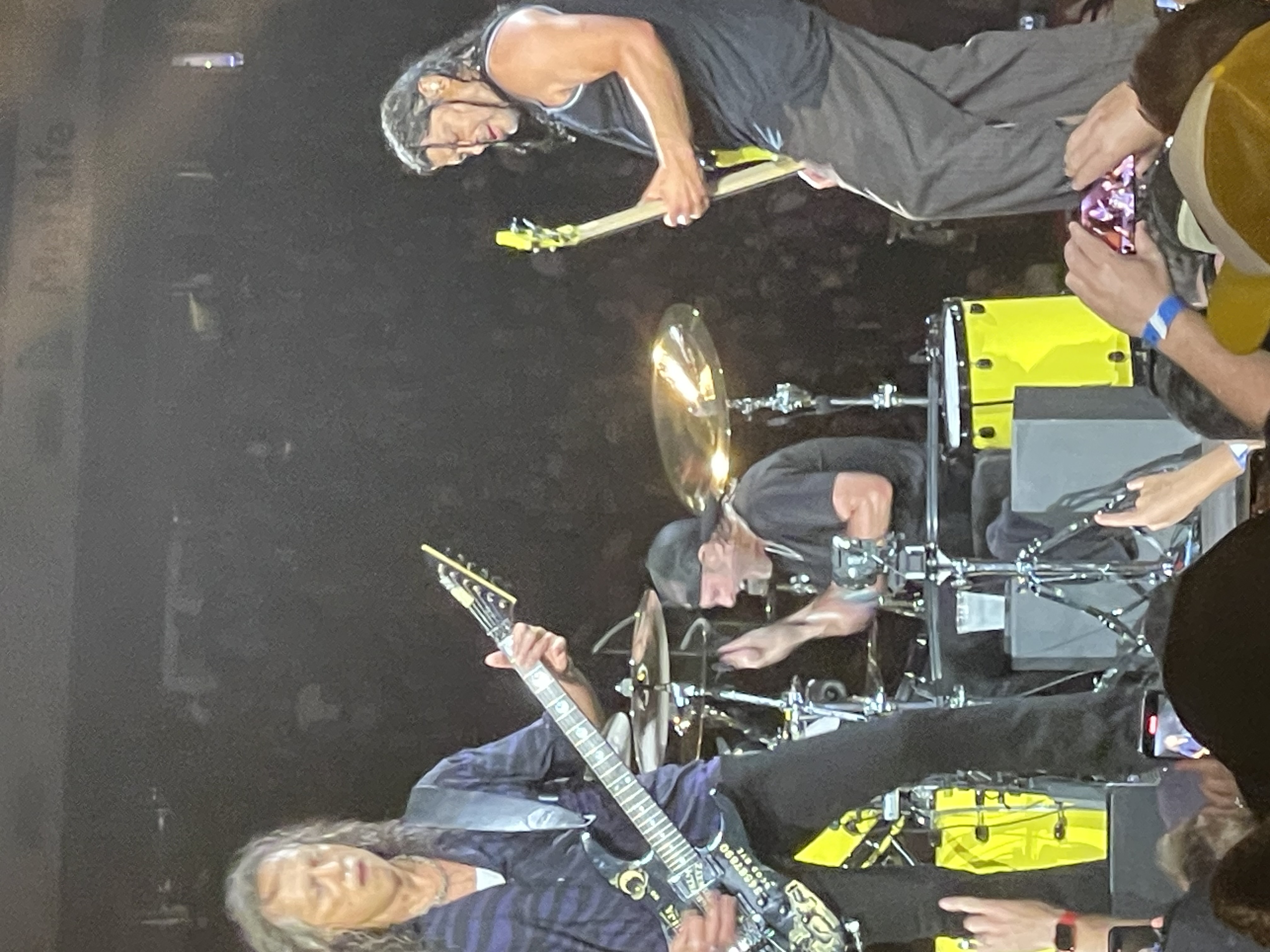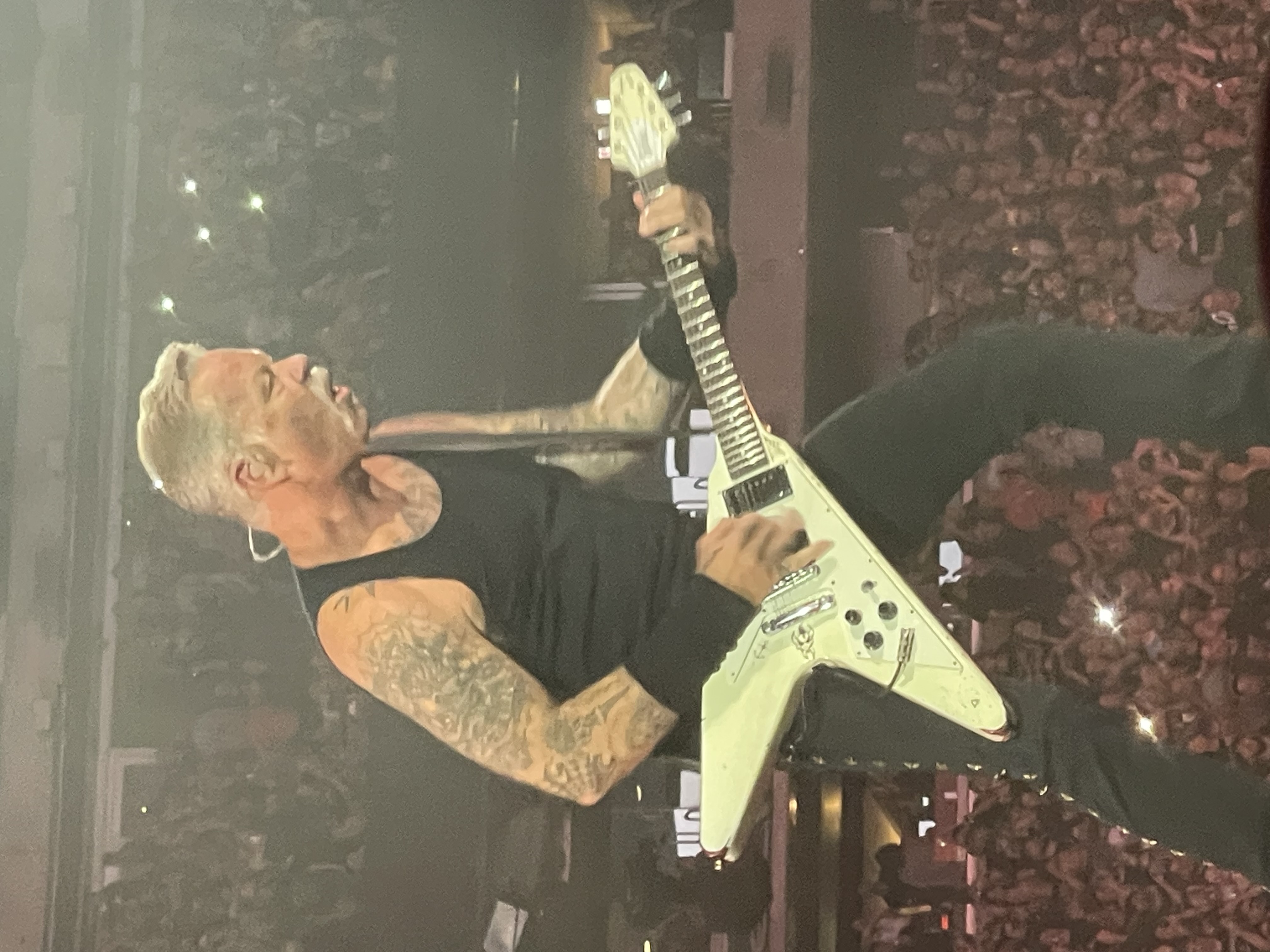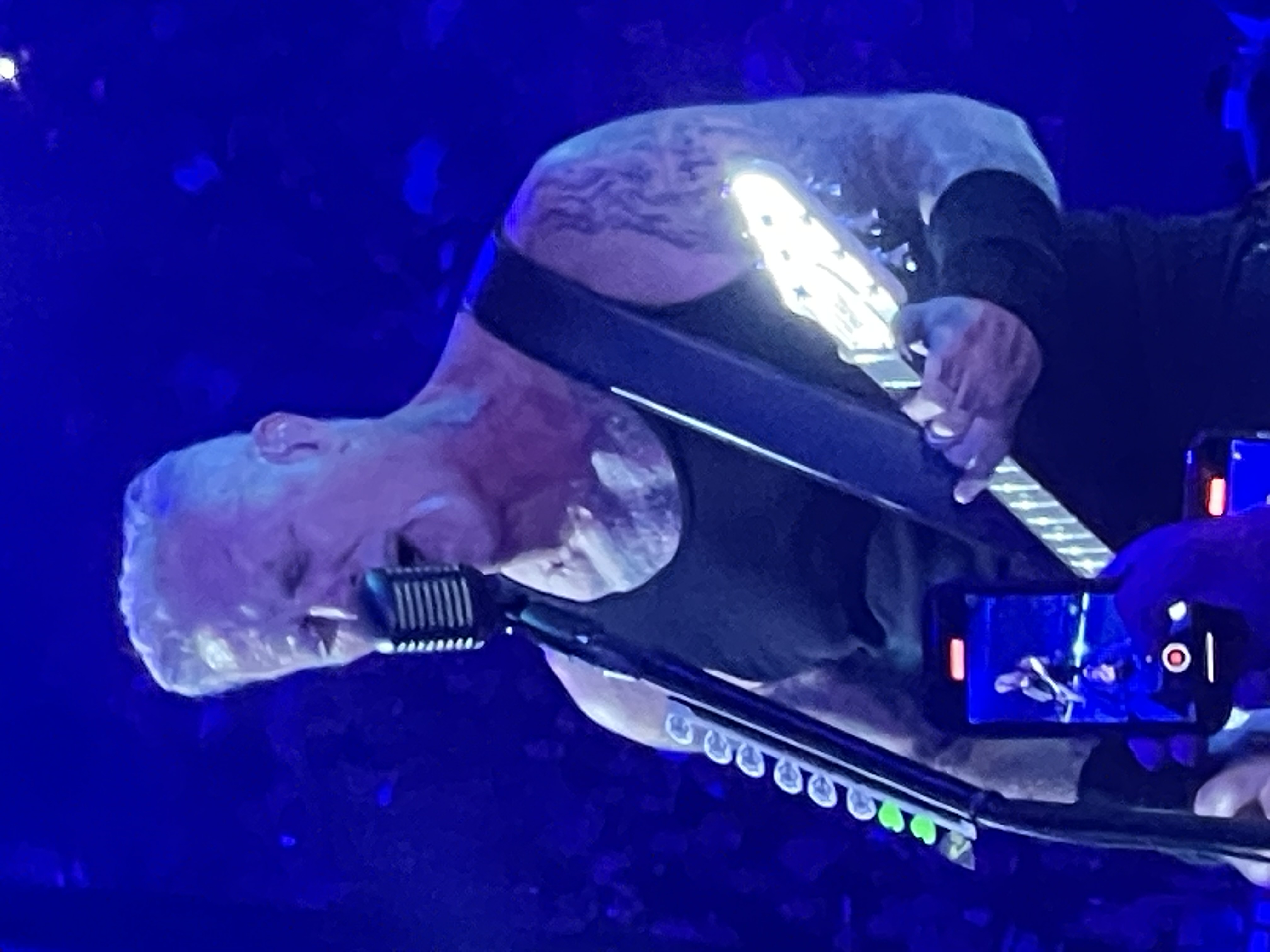 Sunday 06 Aug, 2023:
Pre-show concert: The parking lots buzzed with anticipation as concert-goers arrived early. It was a testament to the dedication and passion of Metallica's fanbase, who transformed the pre-concert experience into a vibrant gathering of the metal community. The Sunday festivities were started by New Jersey's own thrash metal icons Overkill, who set the stage on fire with an electrifying performance in the parking lot stage. Contrary to Friday, it was blistering sunny & hot day, and the parking lot was packed early, reminiscent of an NFL game-day tailgate. Despite the summer heat, fans packed the penned-in area to witness Overkill's explosive act, and lined up to buy the band's show specific T-shirts at a nearby merch stand (eventually sold out!). Sirius XM personality, Jose Mangin, introduced the band and started a defining Overkill, Overkill, Overkill chant that ushered the metal legends into their set opening track "Scorched". Playing a solid one hour set of songs spanning their vast catalog, including several new tracks, Bobby "Blitz" was in fine humor, as always, light-heartedly poking fun of the "old & ugly mugs" of both the fans, and band members. And as with every Overkill concert, show closer "Fuck You" went down in true metal fashion with a sea and swarm of middle fingers & metal horns in the air!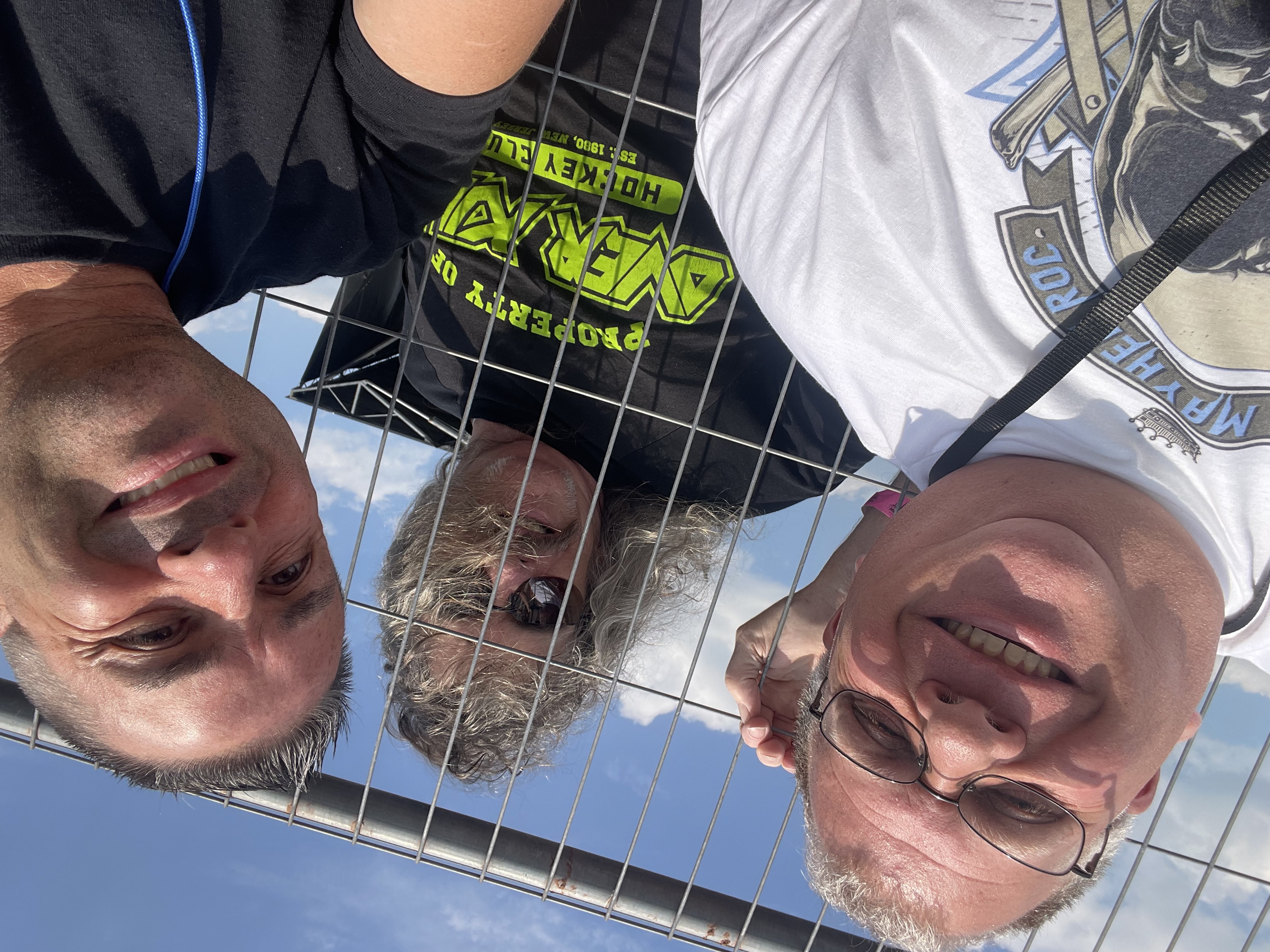 Bobby Blitz from OVERKILL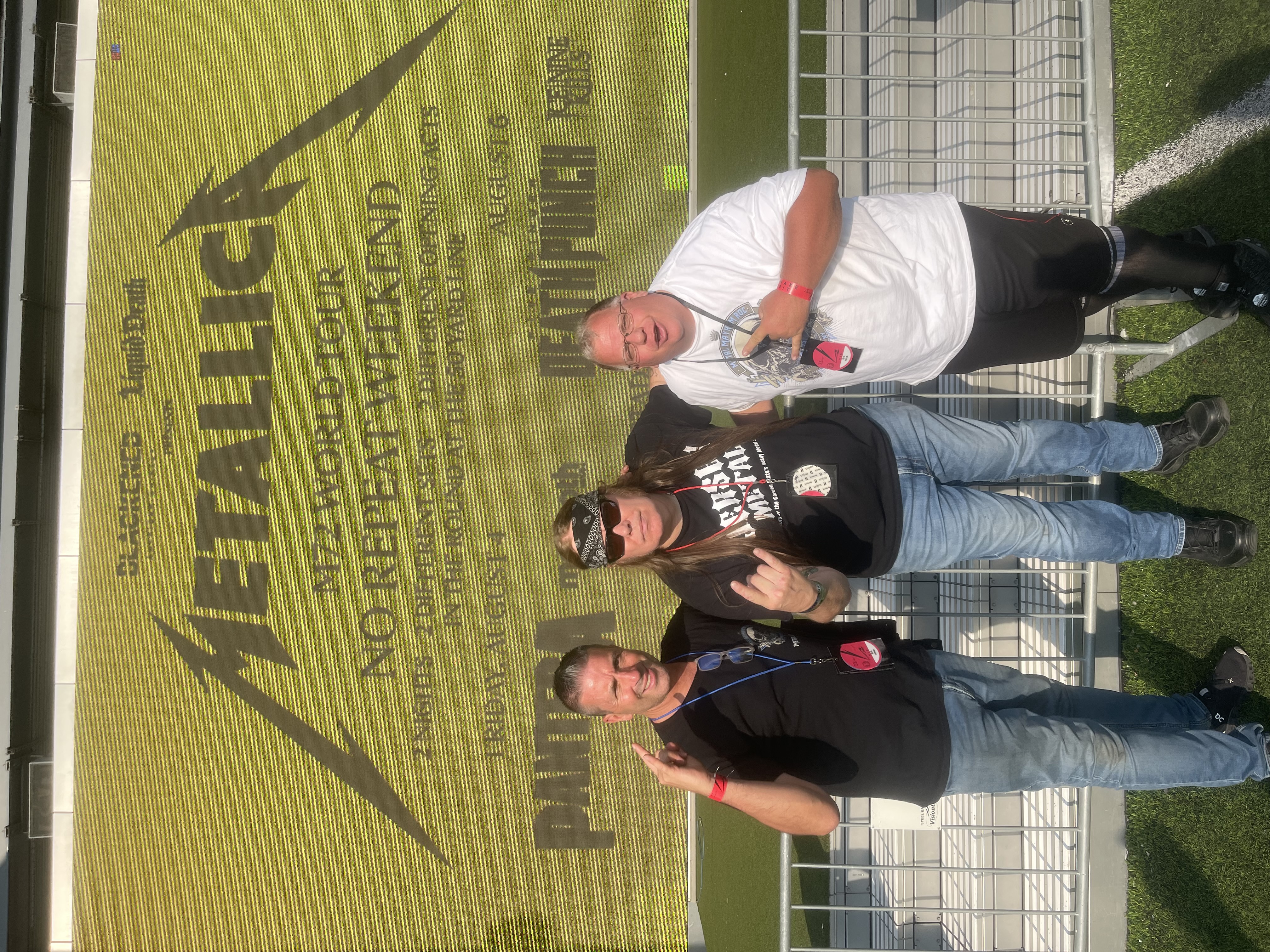 Legendary Metal Photographer Frank White: Jersey Metal: A History Of The Gardens State's Heavy Metal Scene Volume One (1969-1986)
Jose Mangin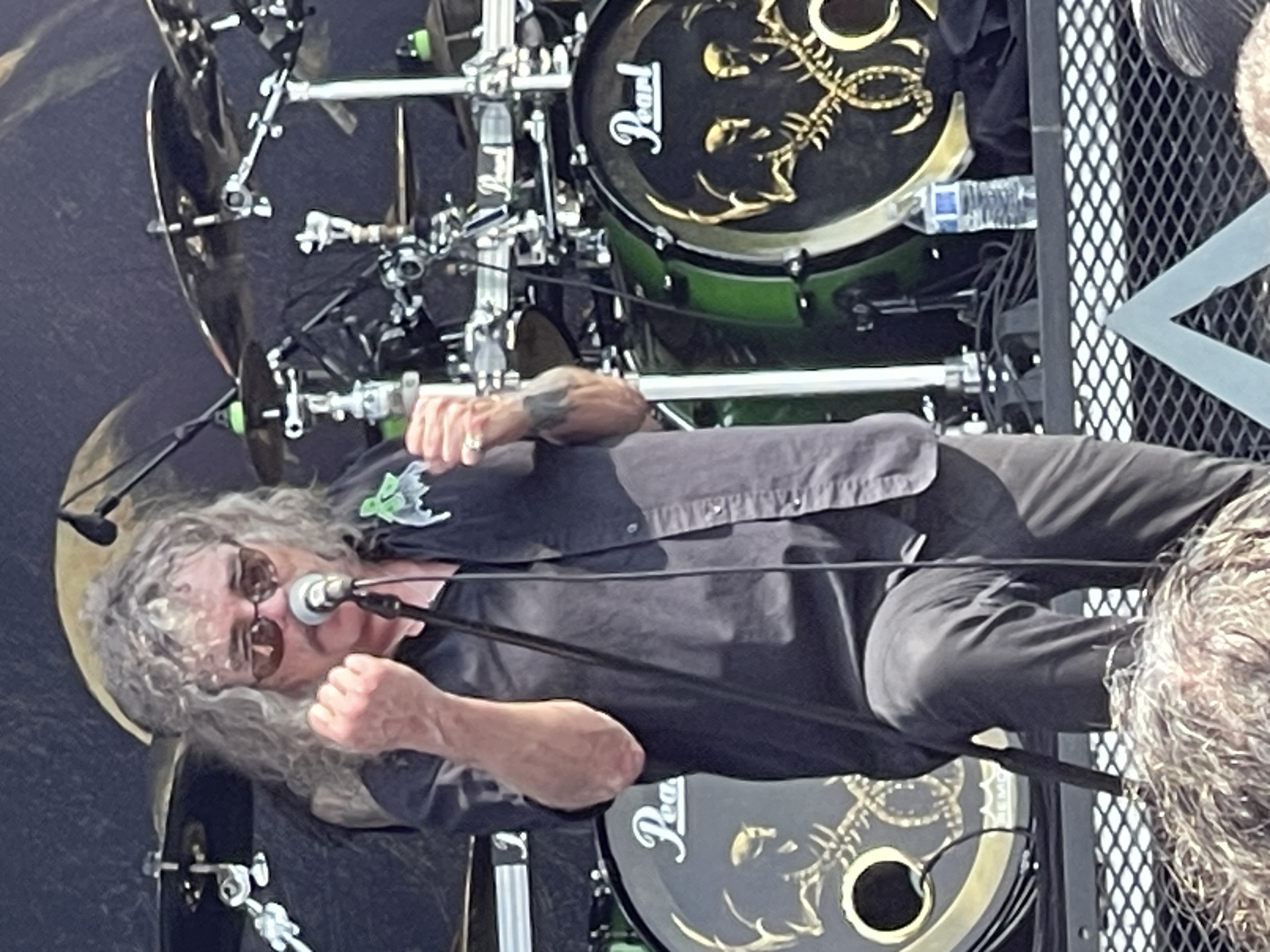 Bobby "BLITZ" Ellsworth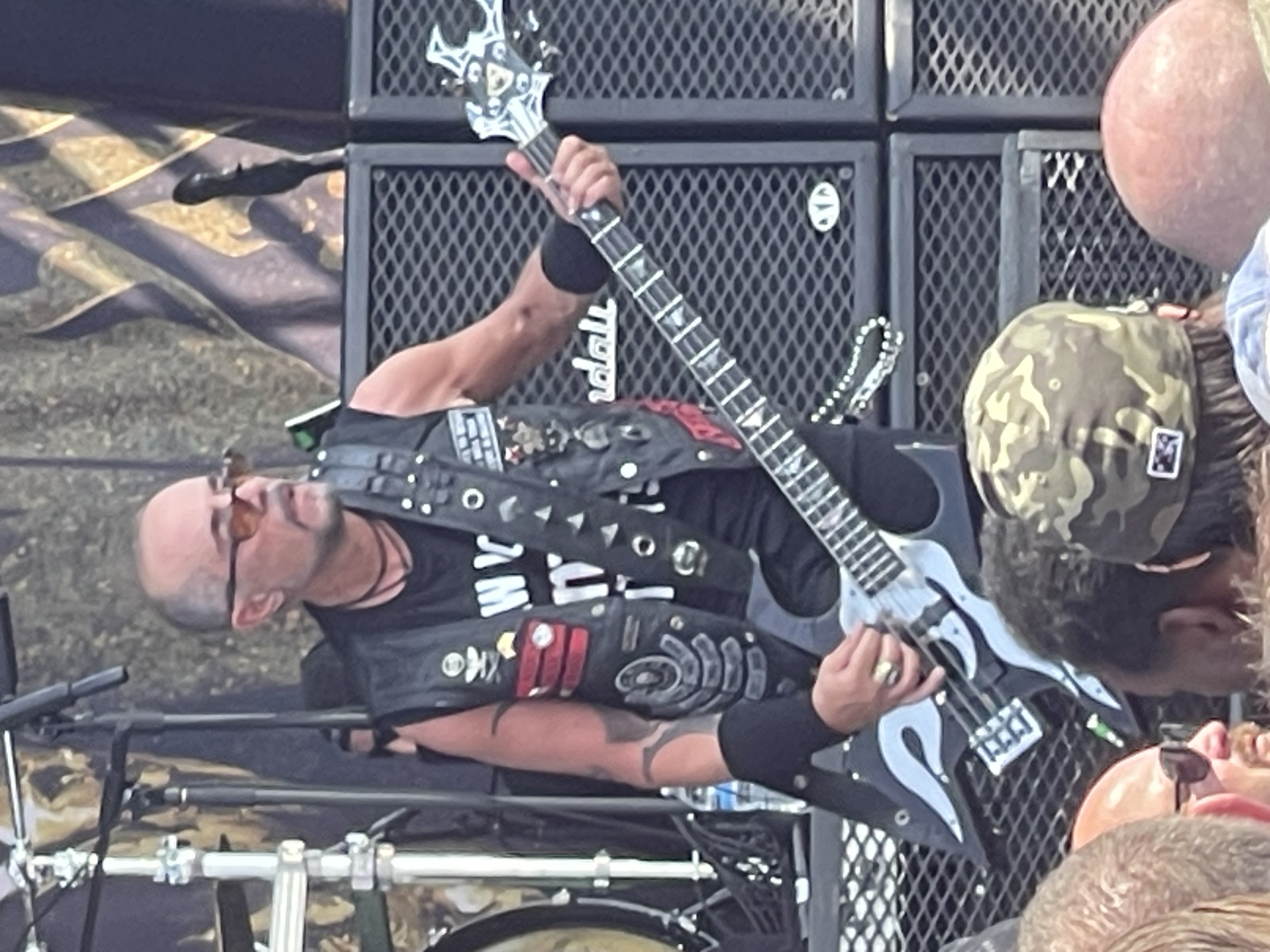 DD Verni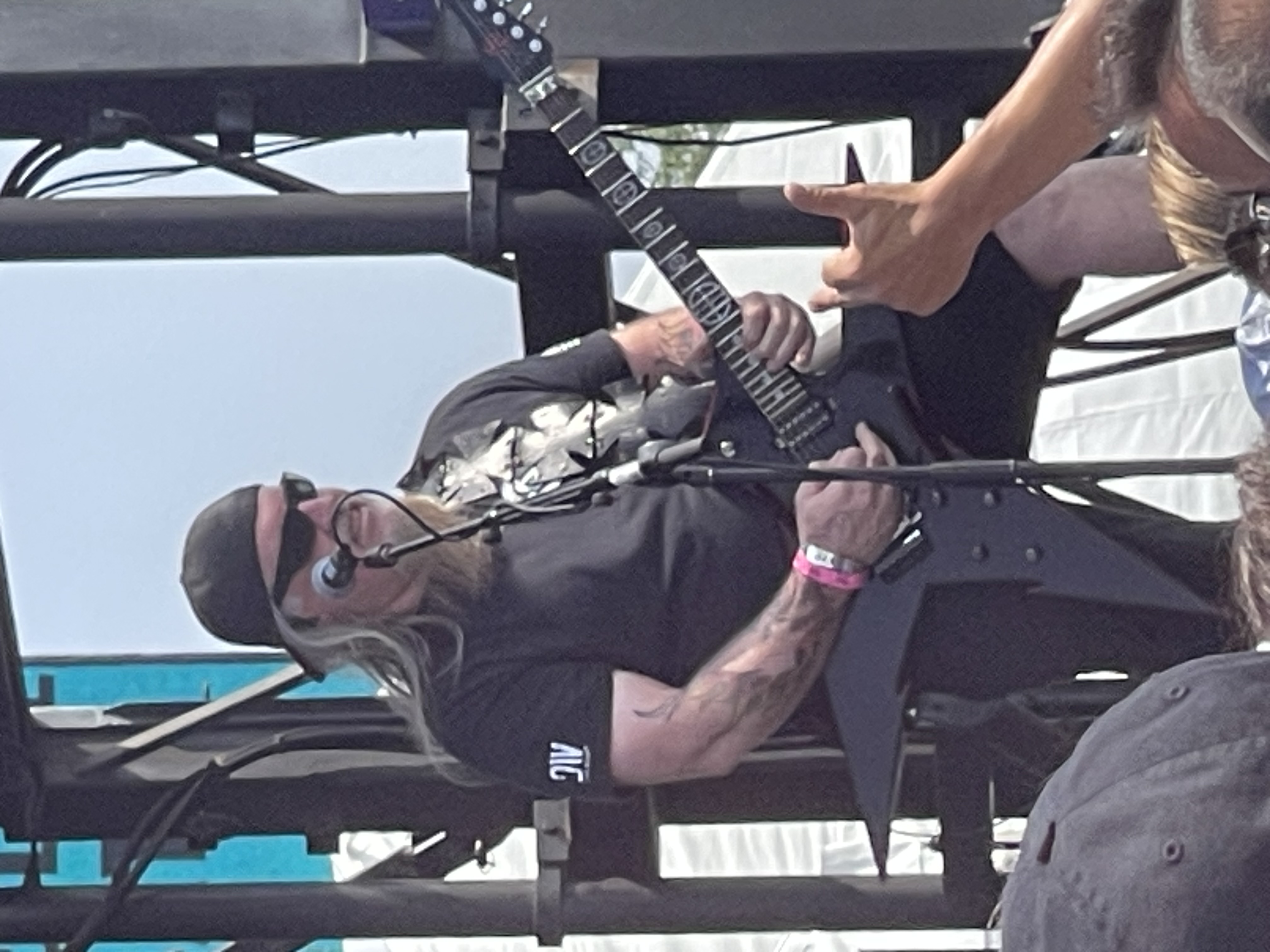 Dave Linsk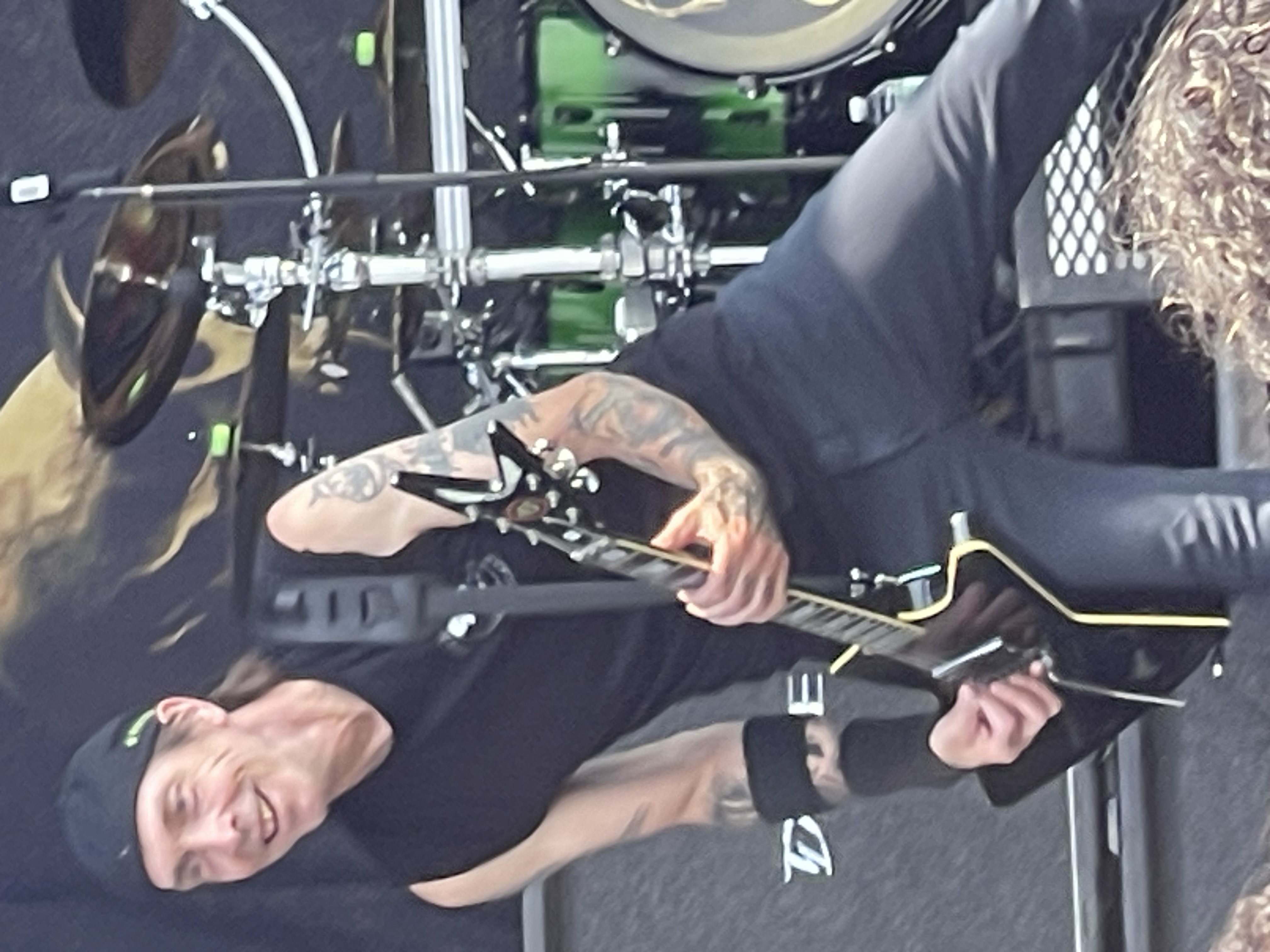 Derek Tailer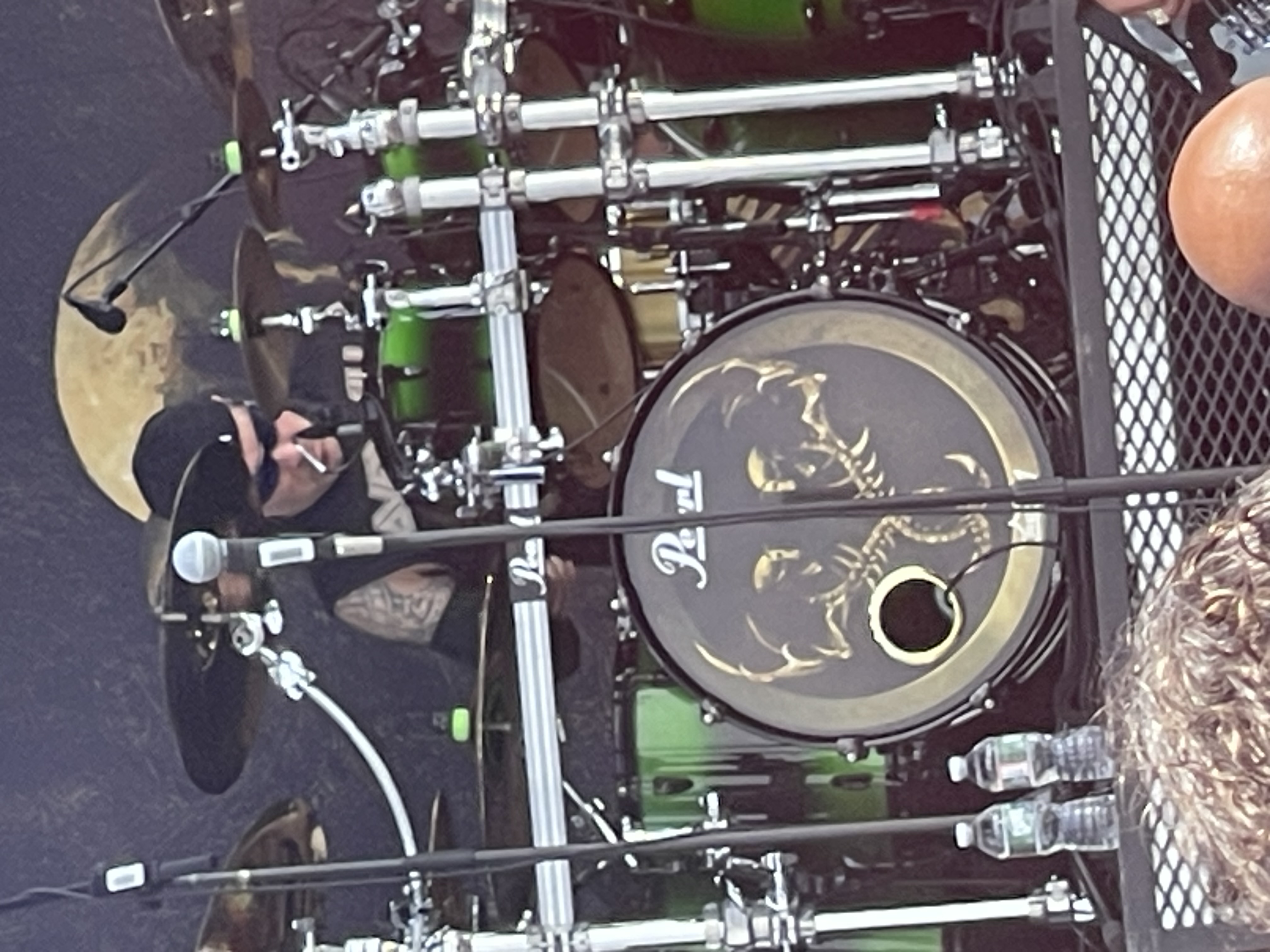 Jason Bittner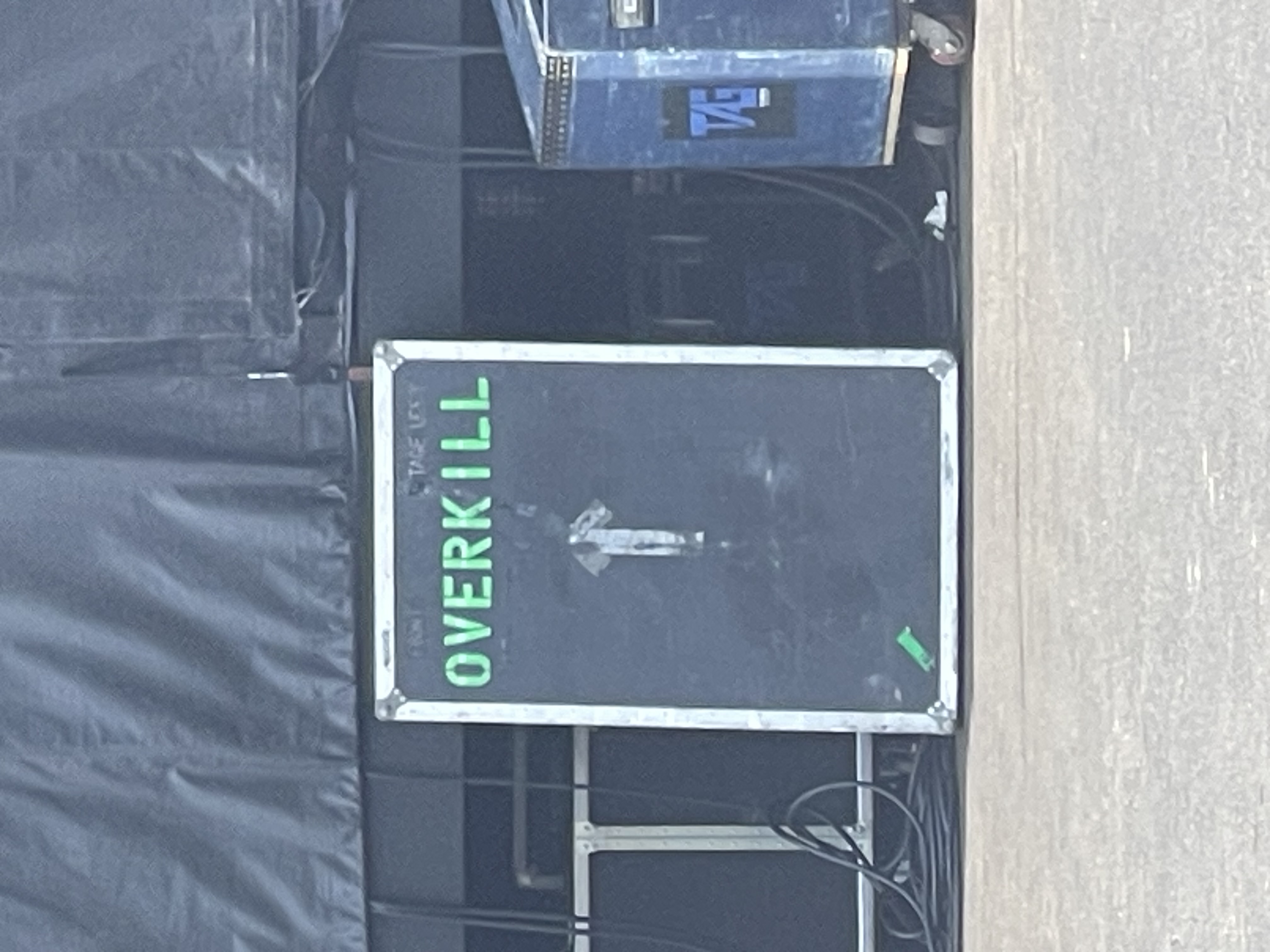 Ice Nine Kills: Inside the Stadium, Ice Nine Kills took the stage with their theatrical performance, offering a horror-themed show that included chainsaws and axes. An unknown entity to the vast majority of the crowd, Metallica has always been comfortable bringing in new & unique acts as support throughout the years, so this was of no surprise. Like many other bands prior, such as Volbeat, The Sword and Machine Head, Metallica at times provides the springboard for kick-starting a younger bands career, and I'm certain Ice Nine Kills is no exception!
Five Finger Death Punch: A headlining entity of their own, Five Finger Death Punch unleashed a hard-hitting 12-song set as the middle act, as frontman Ivan Moody and company performed band staples hits like "Life Me Up", "Under and Over It", and "The Bleeding", plus several new songs from their latest album "AfterLife". Although not the a-typical type band one would expect Metallica to take on the road, FFDP has built a solid & successful career from the ground up & has a massive following of their own, something worth calling out. Whether you are an advocate of their style of music or not, there's a lot to appreciate about these guys as they've lived the ups & down and highs & lows of a hard rock band, yet continue to rise to higher levels despite sobriety struggles, band members changes and the like. And as Ivan pointed out, Metallica was his inspiration as a young man who dreamed of becoming a metal star – mission accomplished!
Ivan Moody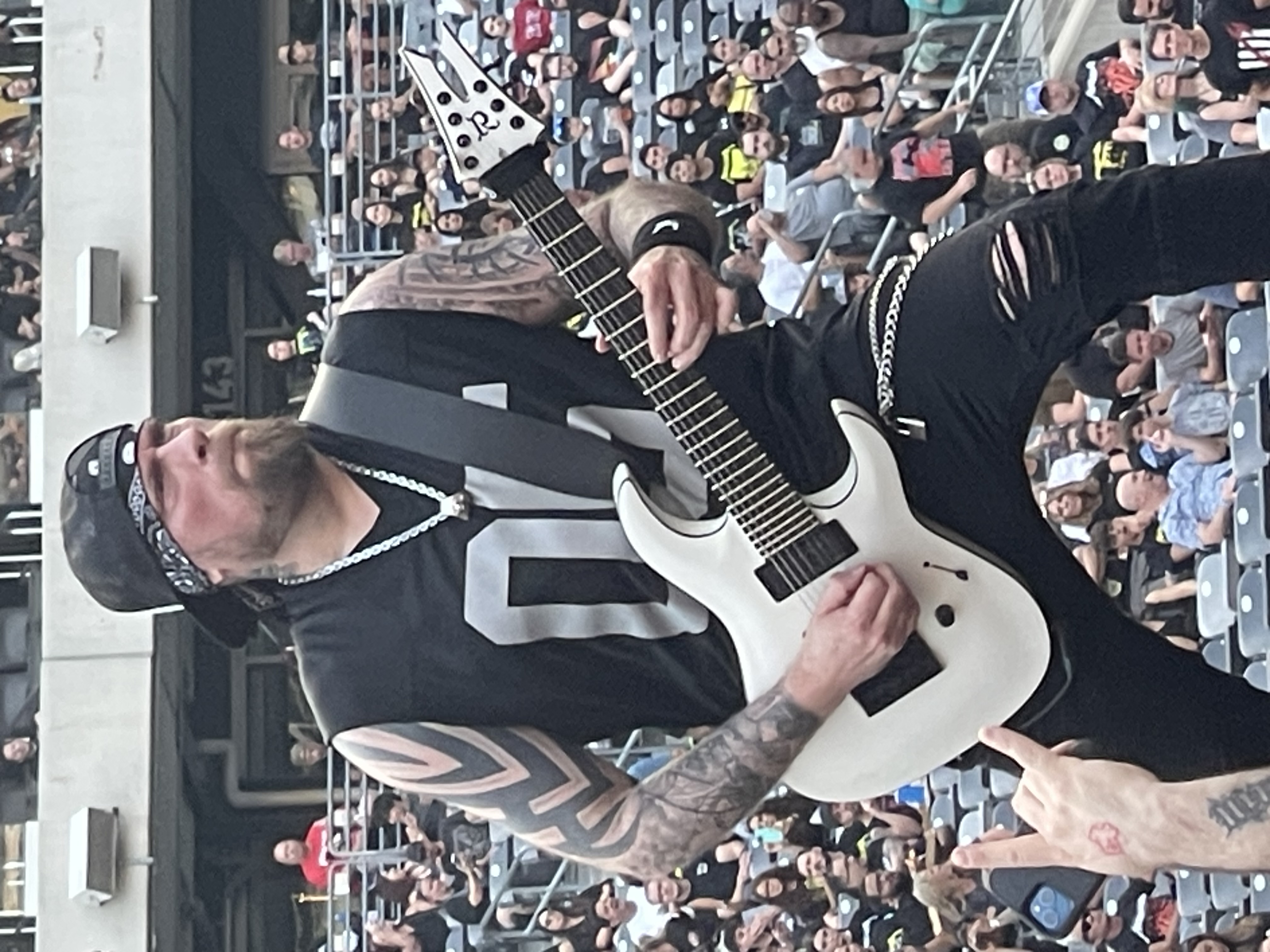 Andy James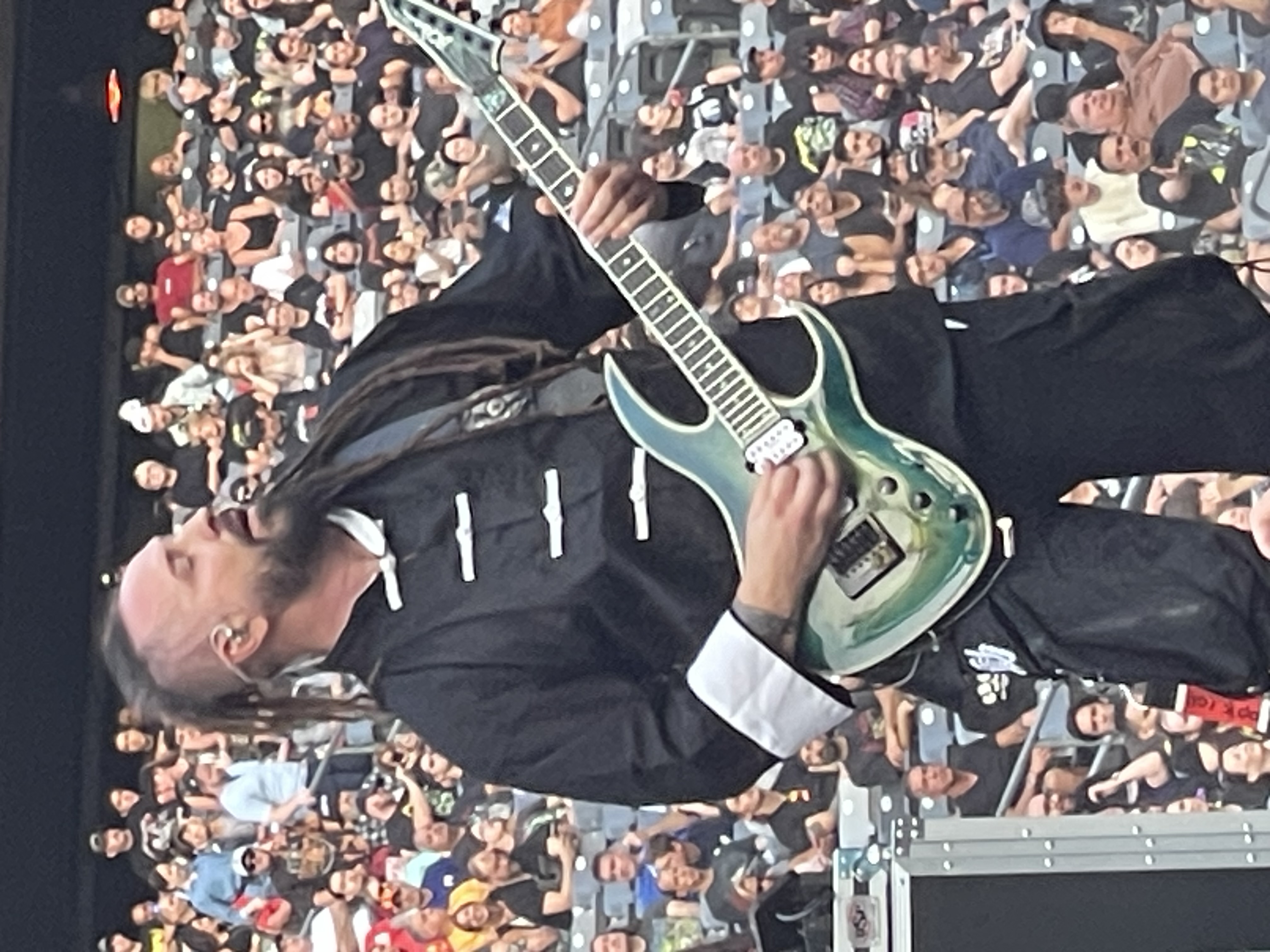 Zoltan Bathory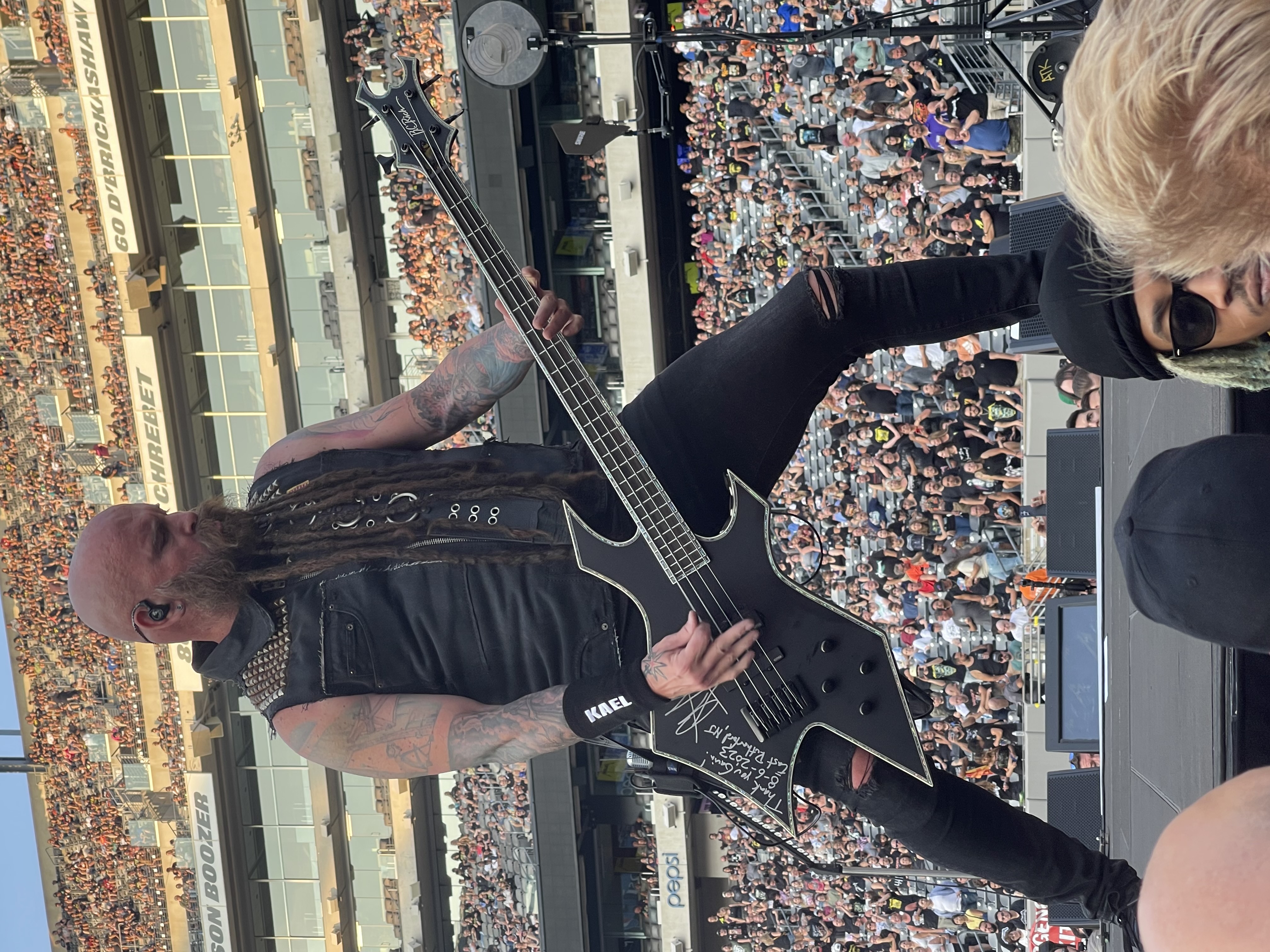 Chris Kael
Metallica: To sum up Metallica's second show of the weekend, their "No Repeat" setlist offered a whole new experience for those also in attendance on Friday. 16 DIFFERENT songs, fuck yeah! Just as they did on Friday, the band kicked you right in the mouth out of the gate, once again opening with a track from debut album "Kill 'Em All", "Whiplash". And if that wasn't enough, they then launched into "For Whom The Bell Tolls" & "Ride the Lightning". As a whole, the band was more relaxed & looser on this night, something James called attention to early on. The nerves were gone & they were having fun (case in point when Kirk noodled the main riff to Deep Purple's "Burn" right before James saying "Not THAT Burn" before playing "You Must Burn!" from the new album). Another three songs from "72 Seasons" made their way into the Sunday set, with "Too Far Gone?" getting its live debut this time around. Massive 17-pound beachballs, yeah they were all over again (for the record, the beachballs were not brought out in Europe), as the Sunday setlist once again took the audience on a journey through Metallica's extensive catalog, culminating with life-like pre-song helicopter & machine gun sounds before "One" and the set-closing "Enter Sandman." Post show, fans clamored for picks, wrist-bands, paper setlists, drum sticks and anything to take home from this glorious weekend. During both nights, the entire stadium was engulfed in a sea of headbanging, fist-pumping fans who sang along to every lyric. Metallica's stage presence was magnetic, with a highly-energized Hetfield engaging in cheery banter, drummer Lars Ulrich firing up the crowd from behind his kit, and Hammett and Trujillo captivating both audiences from start to finish. Incredible, jaw-dropping & one heck of a experience, which begs the question as to how will Metallica top this – hard to say for sure, but we all know they will!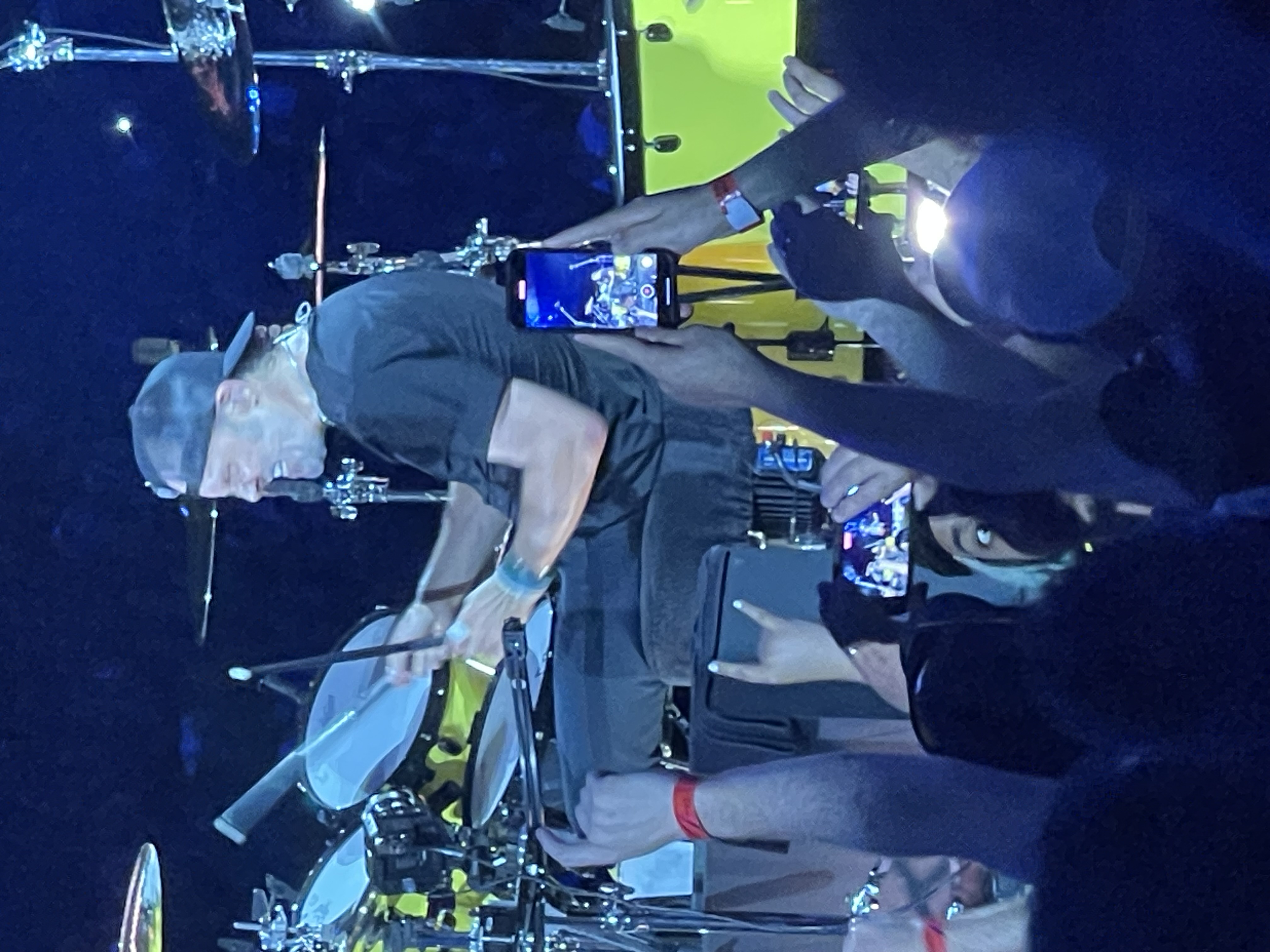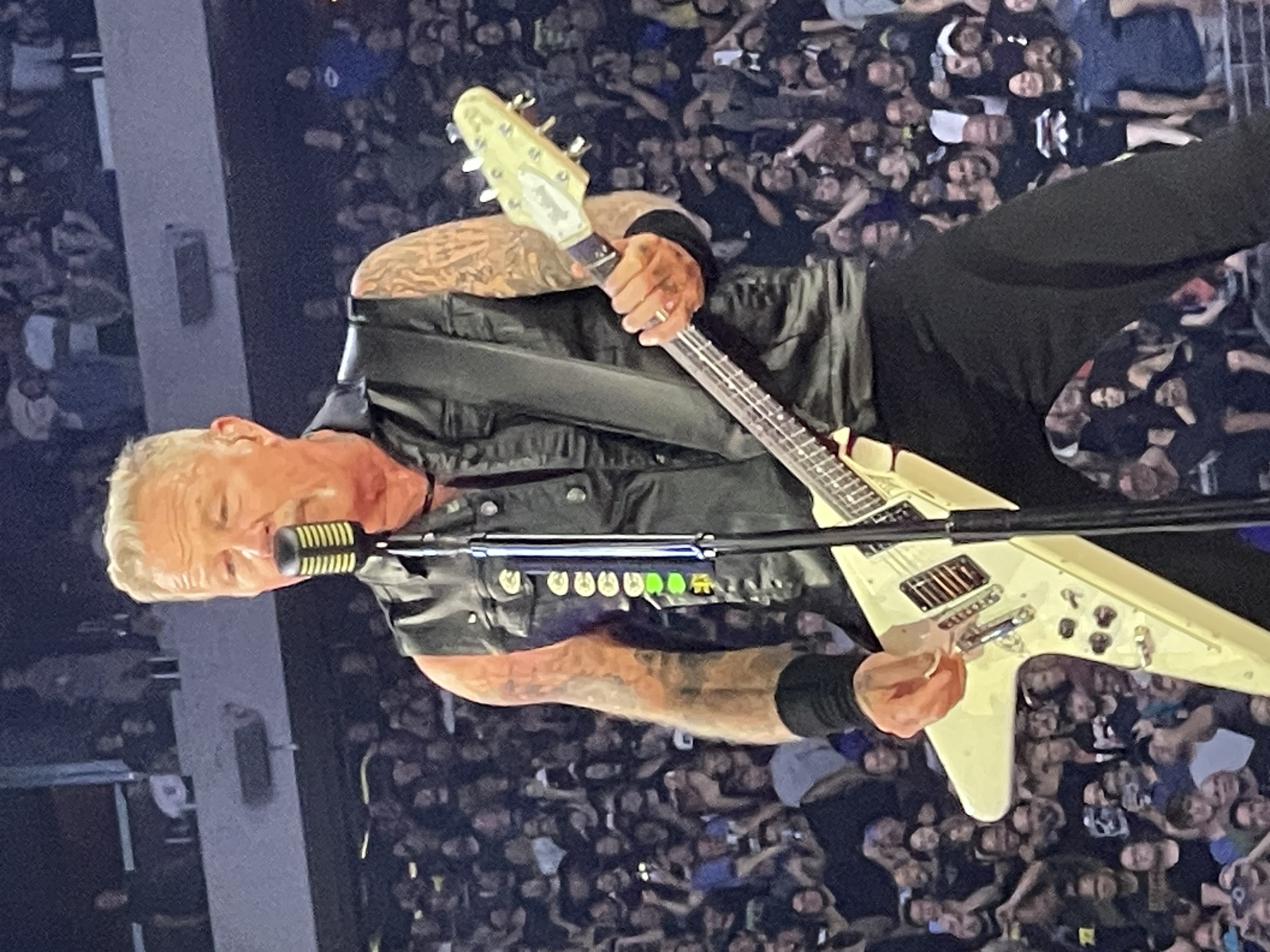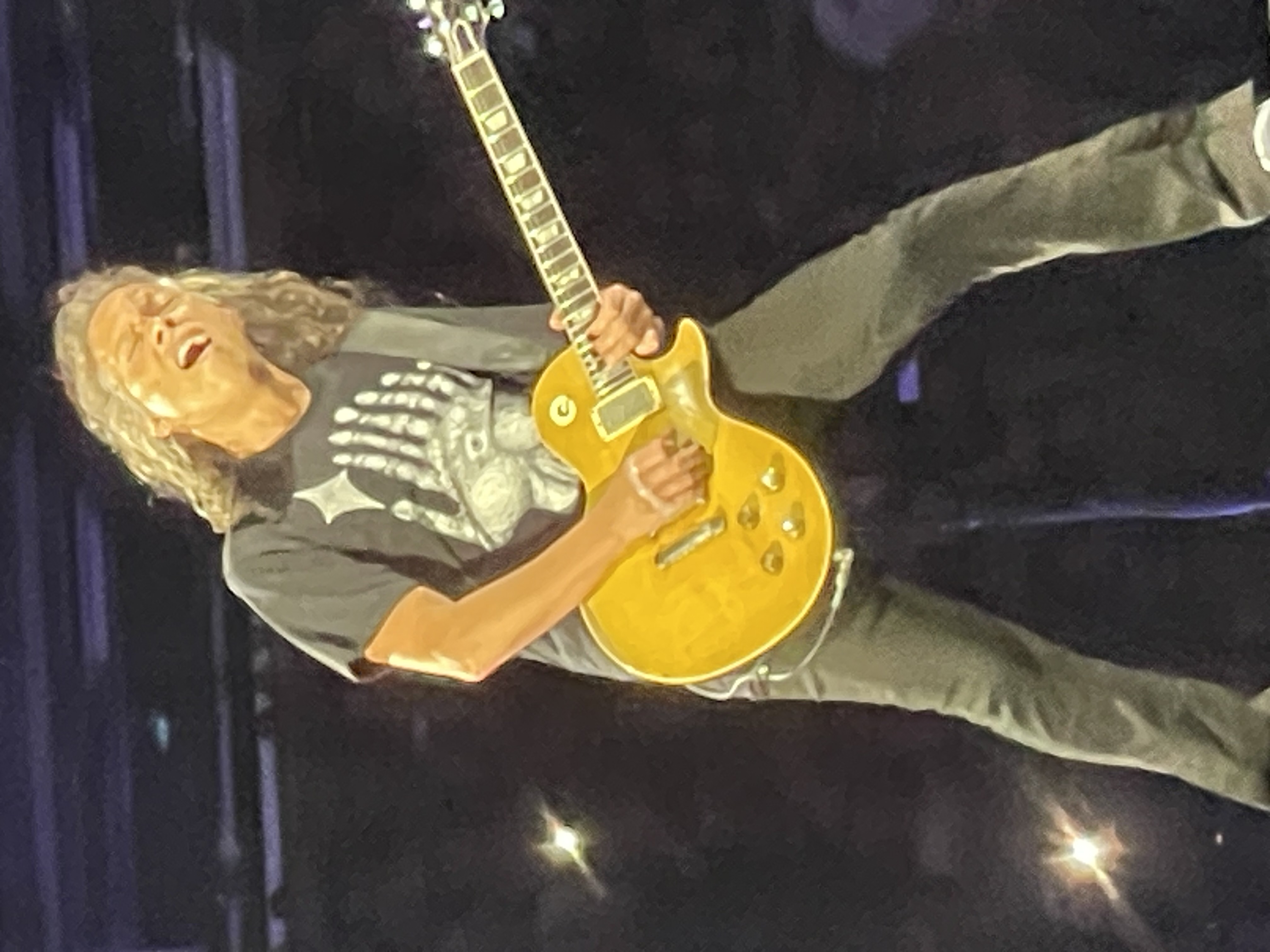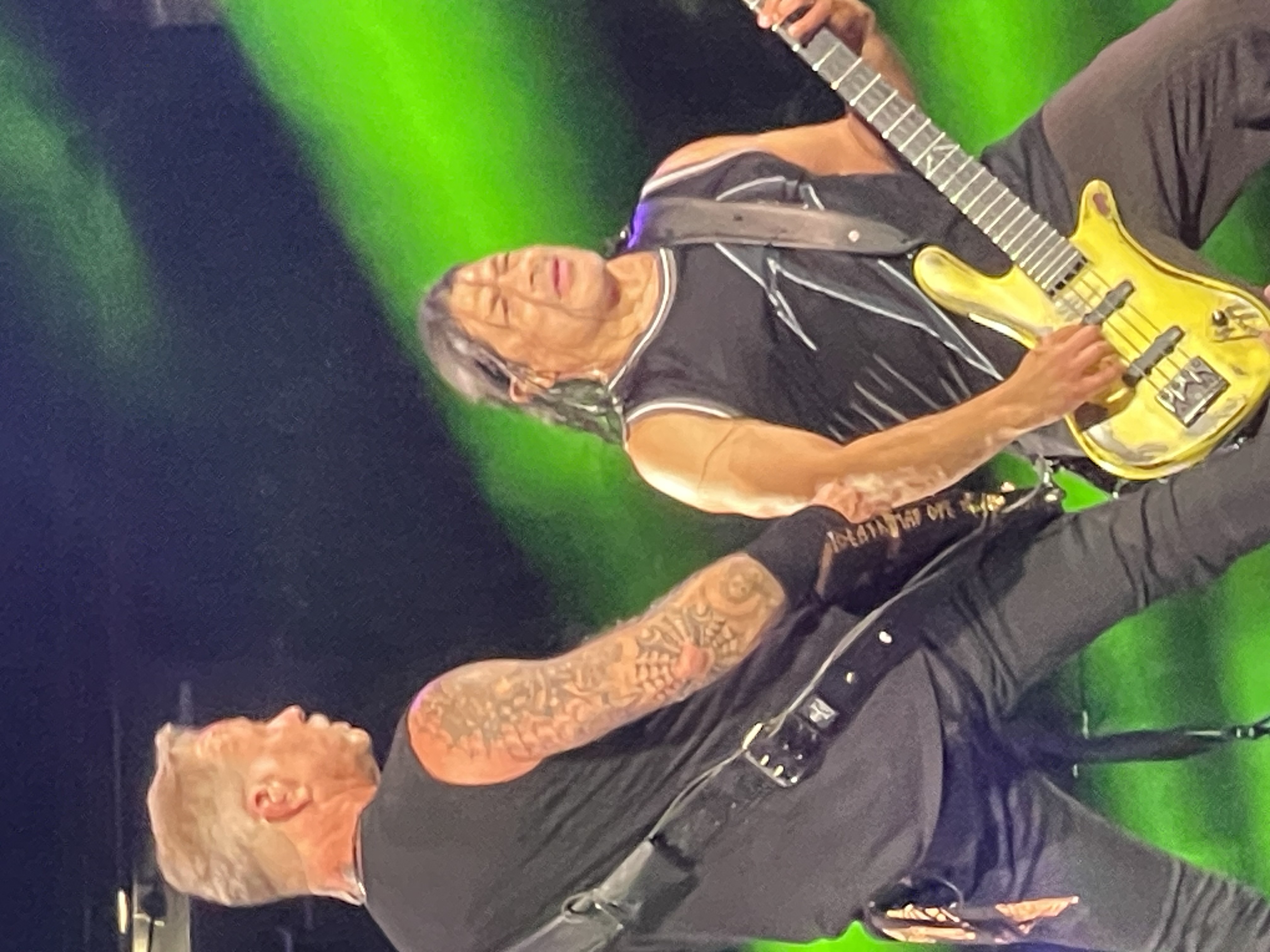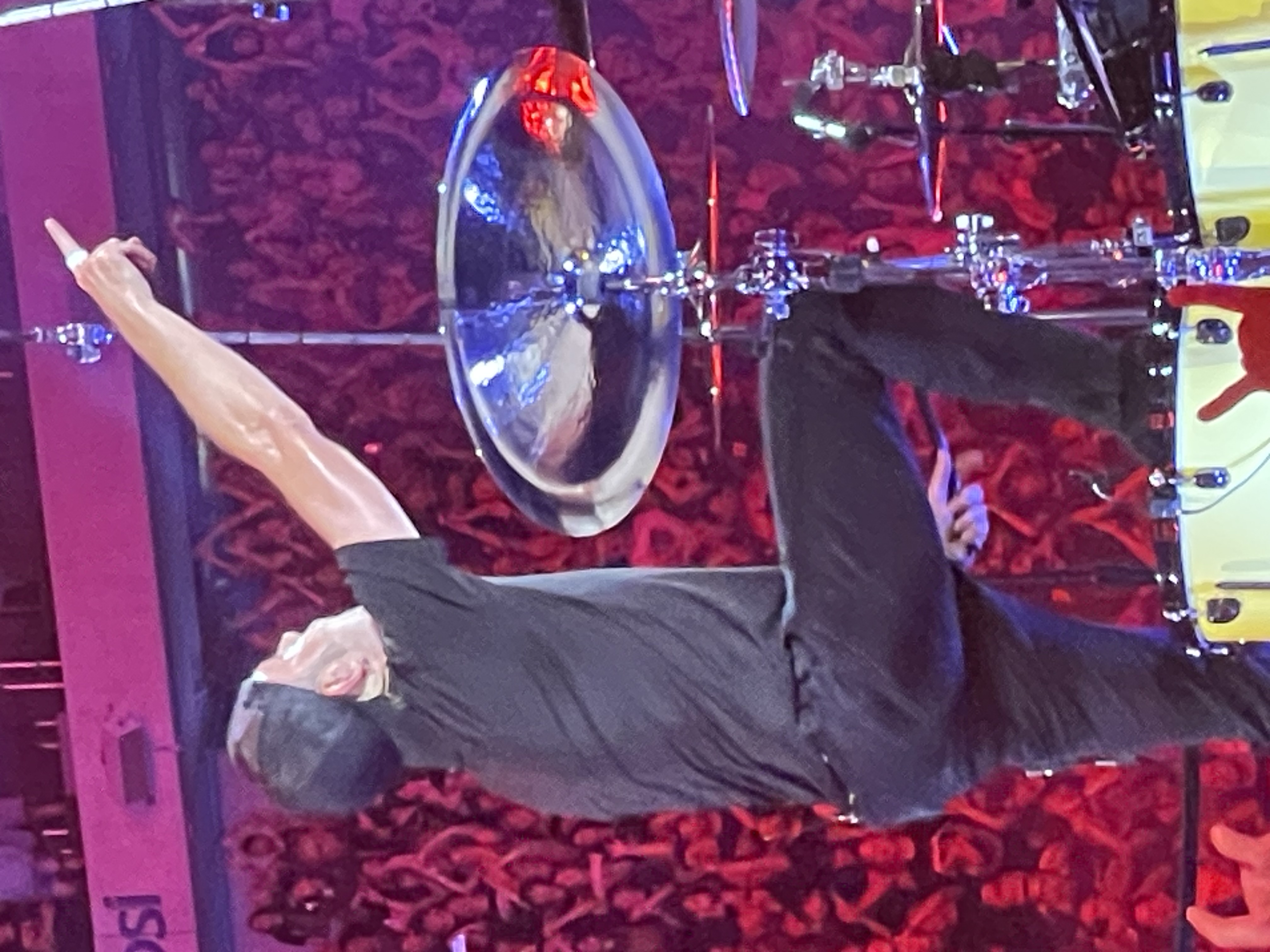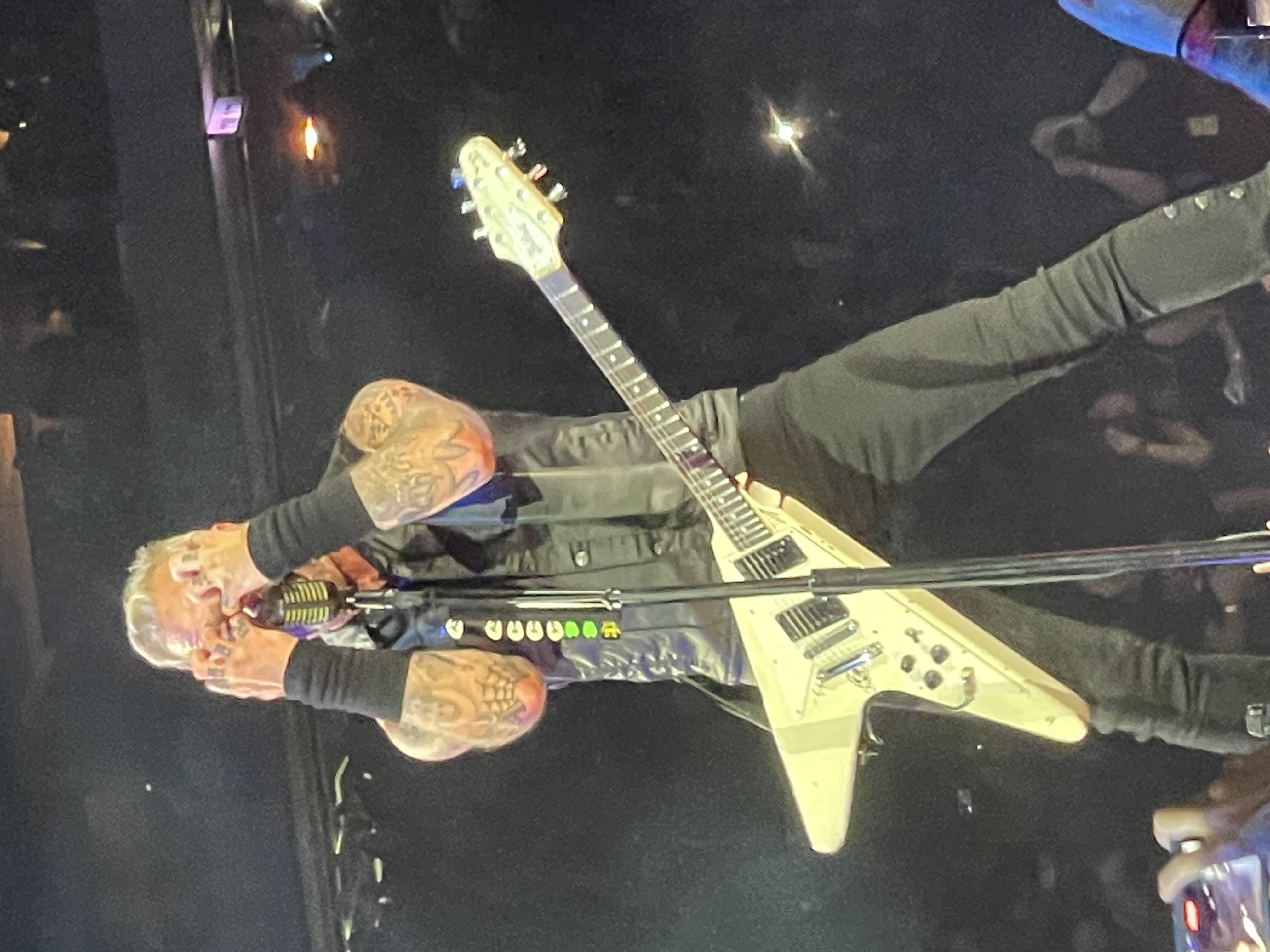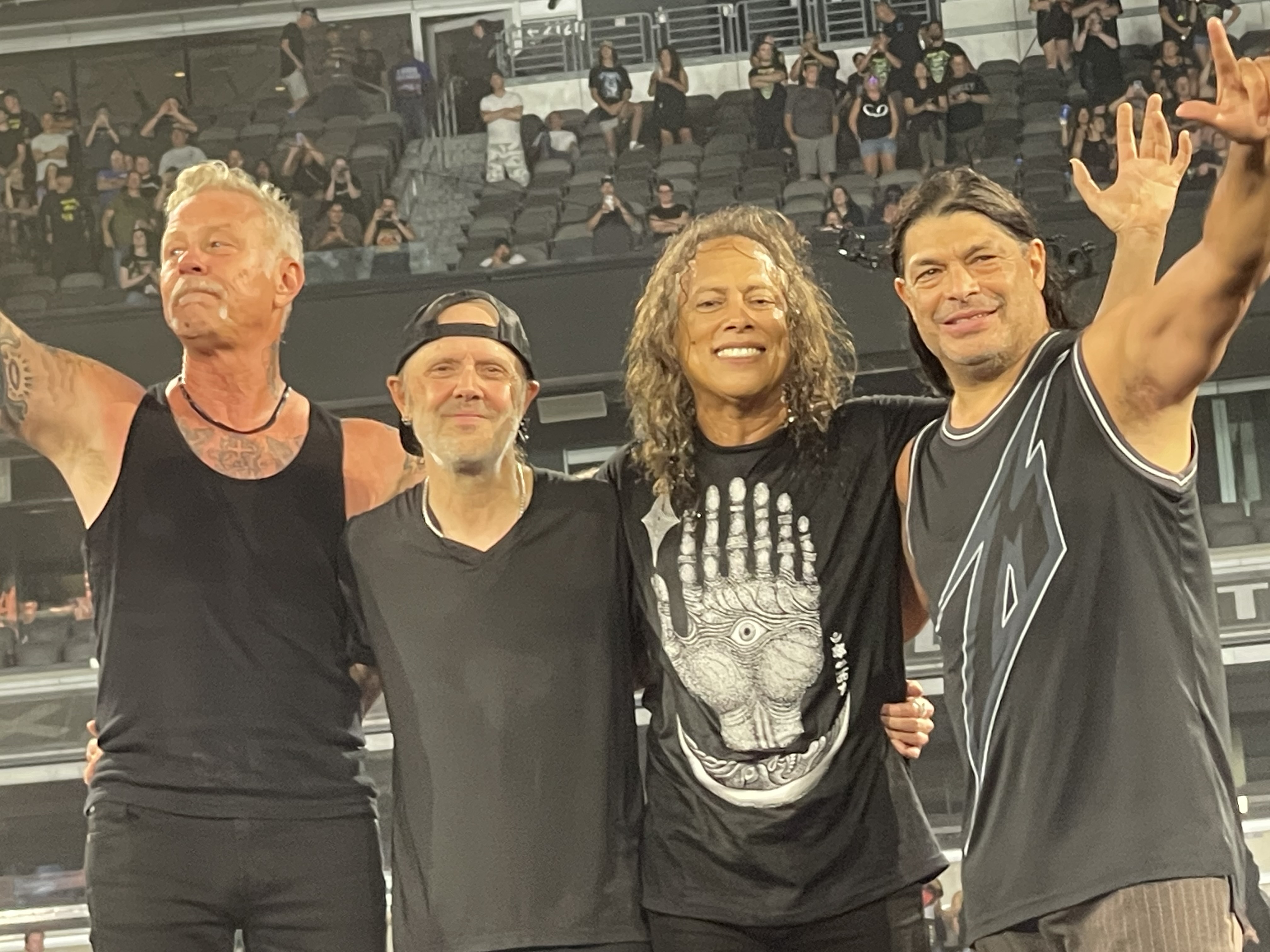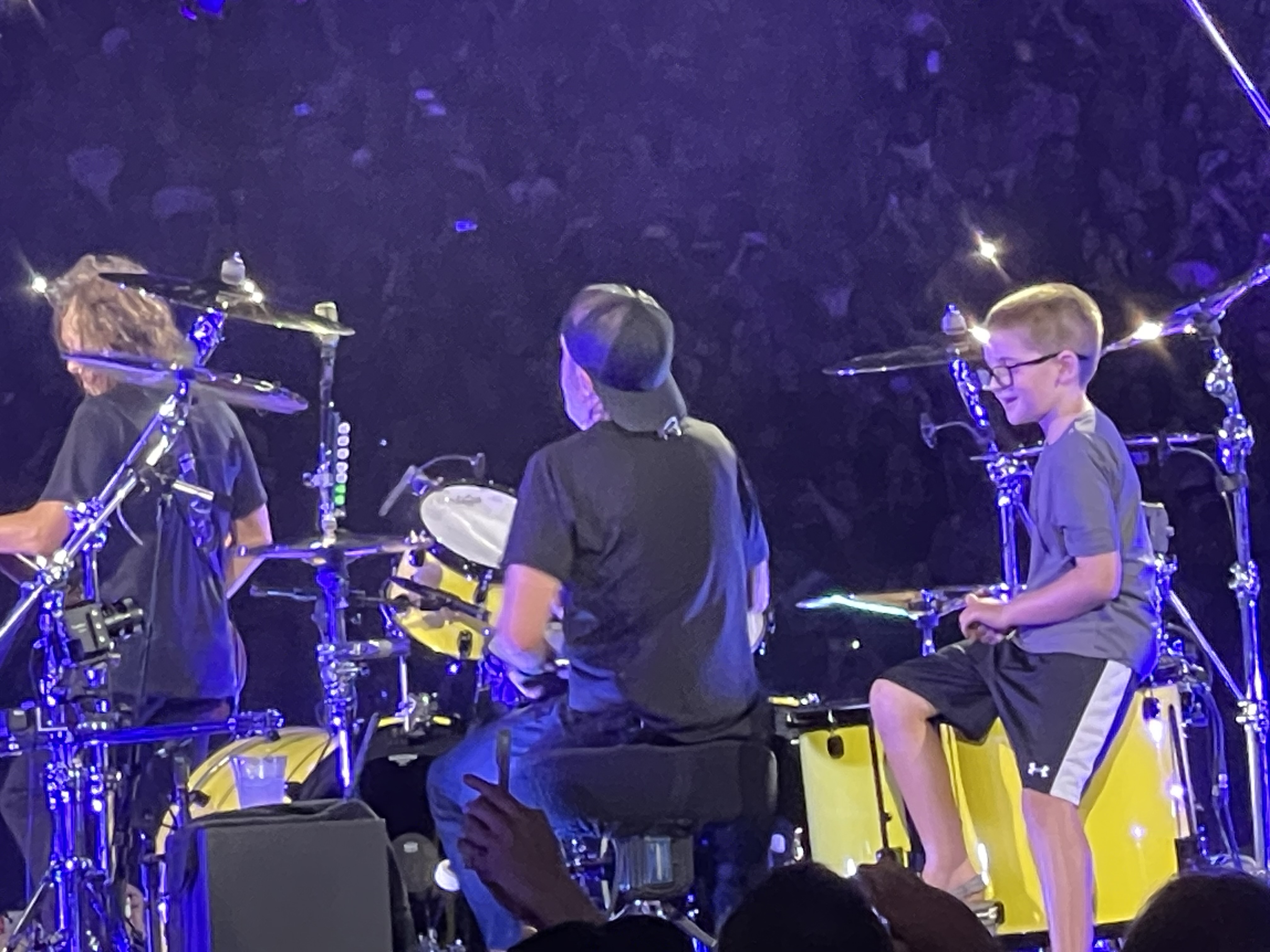 Think this lucky Metallica fan will ever forget this? C'mon. This is AWESOME!!!
Here are some snap shots of friends we made, Thrashers we met and just some great memories!
Melissa Mcleod: Manager of the Metallica Friends and Family room for the North American Leg.
An amazing host and the real MVP of the VIP Room. Horns Up Melissa!
Alex Skolnick (Testament)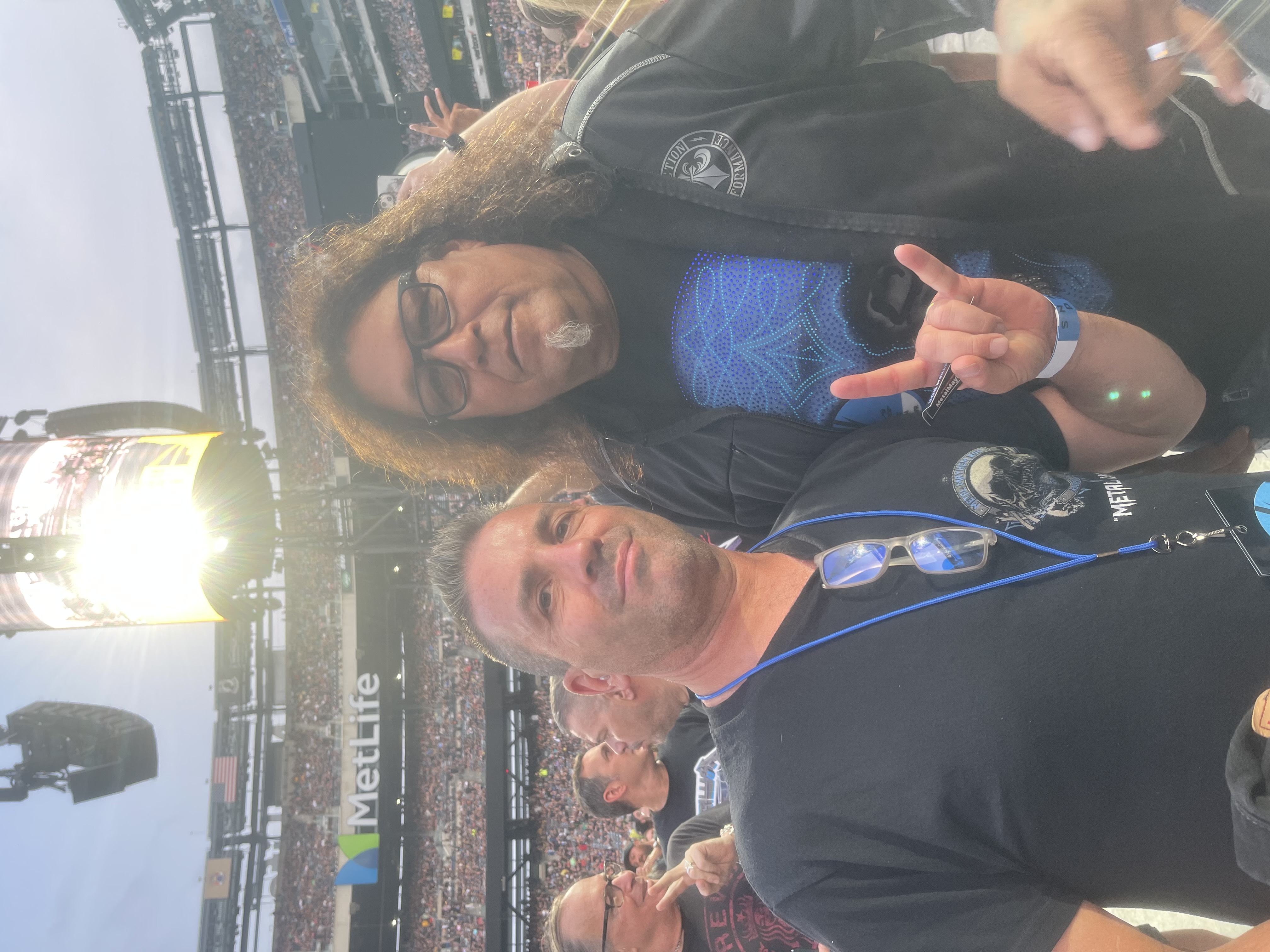 Chuck Billy (Testament)
Chuck Billy's Killer socks scream "METAL"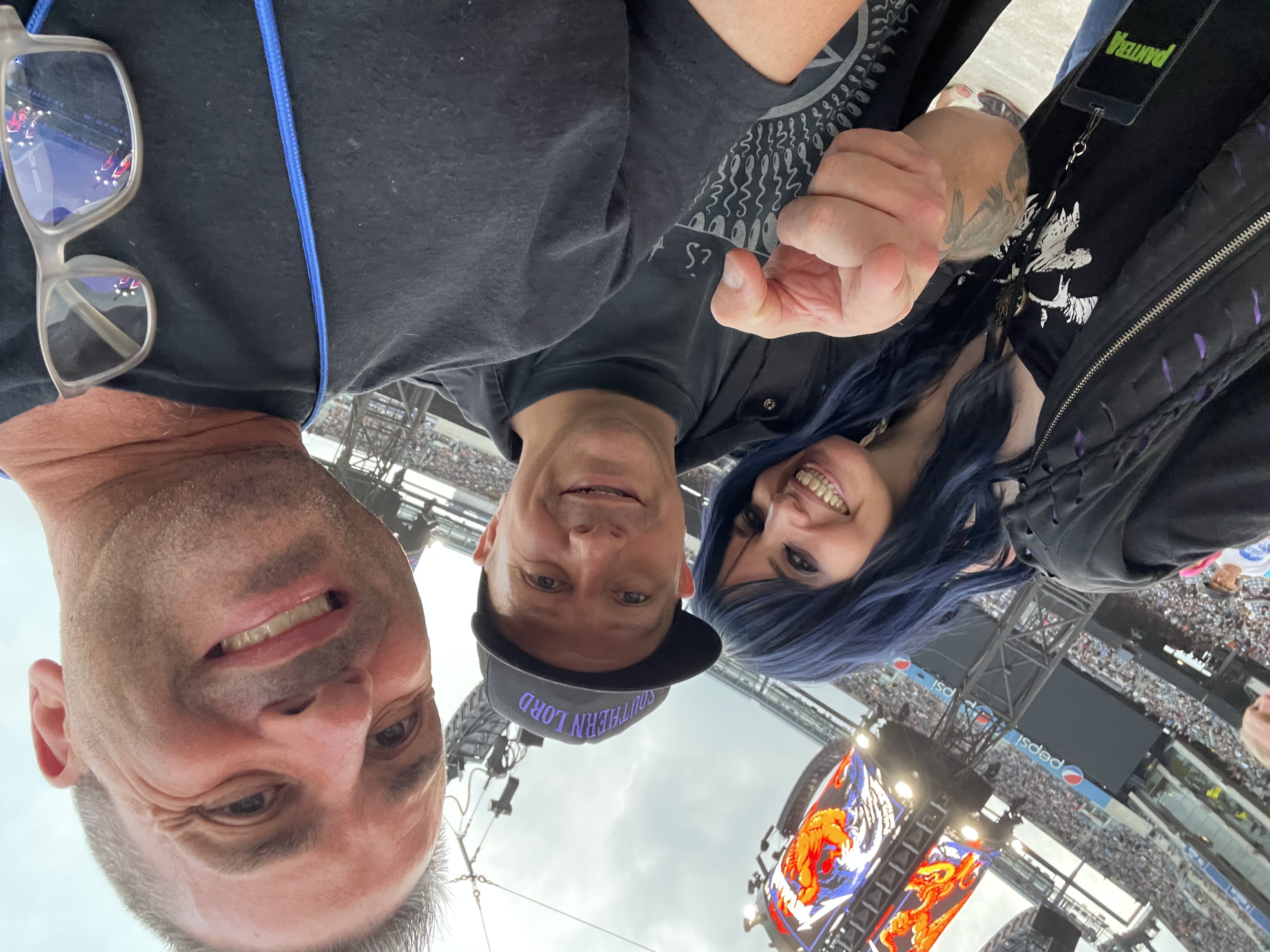 Publicist Liz Ciavarella-Brenner from East Split Compound: One awesome Publicist
Randy Falk from WSOU RADIO and NECA TOYS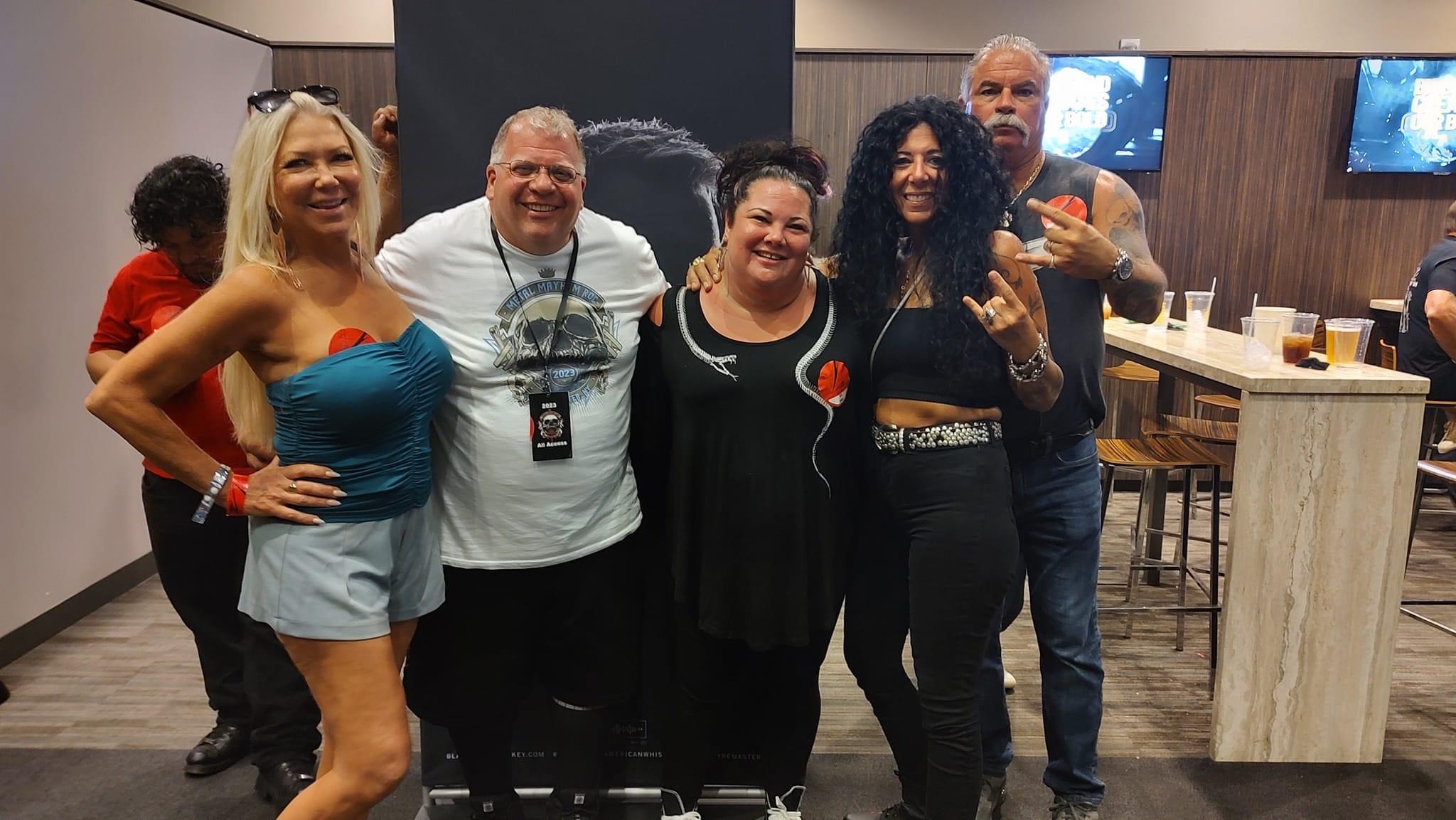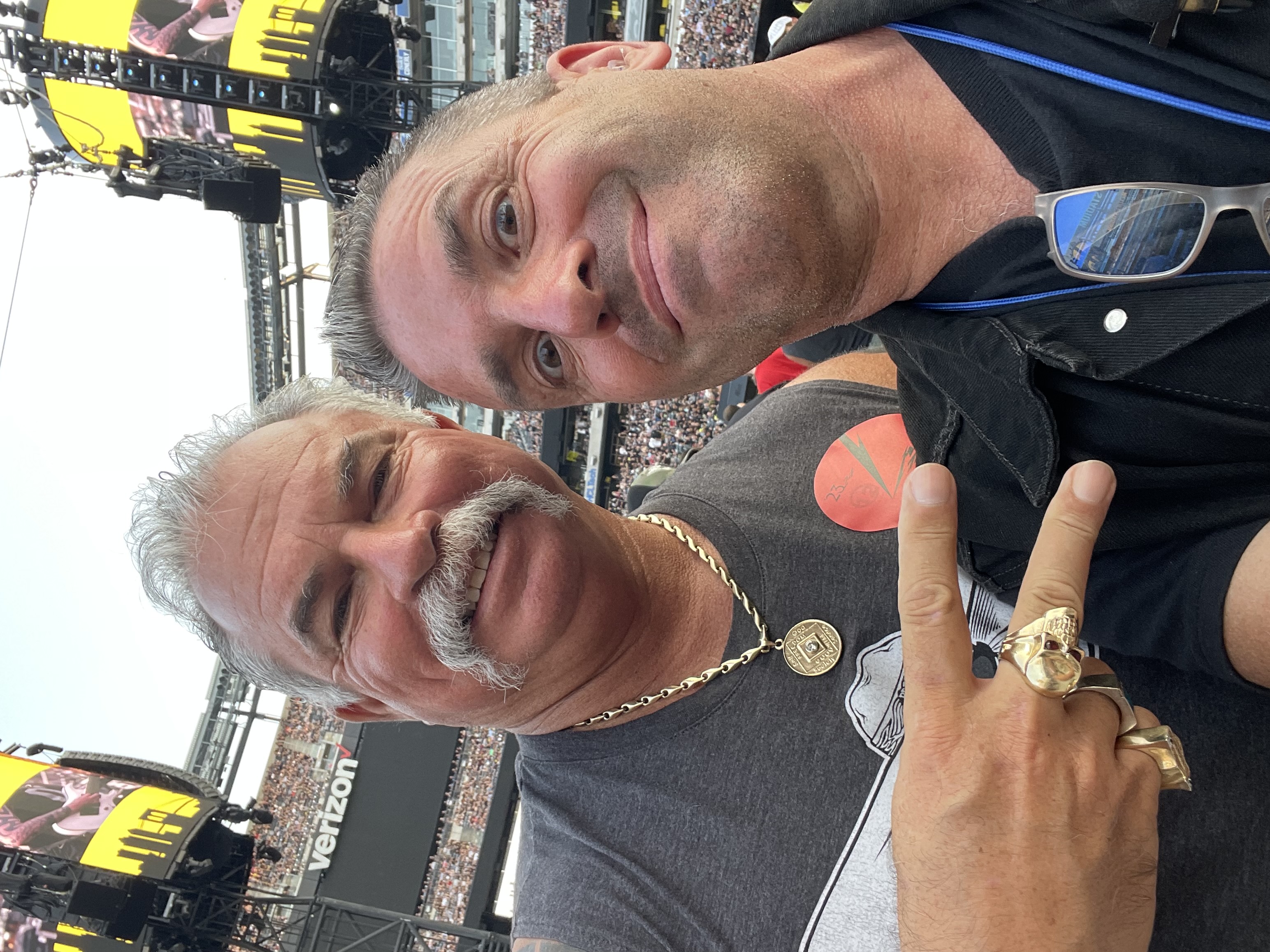 Nikki Zazula and the extended Zazula Family. R.I.P. Johnny Z and Marsha
Just some really cool looking Dude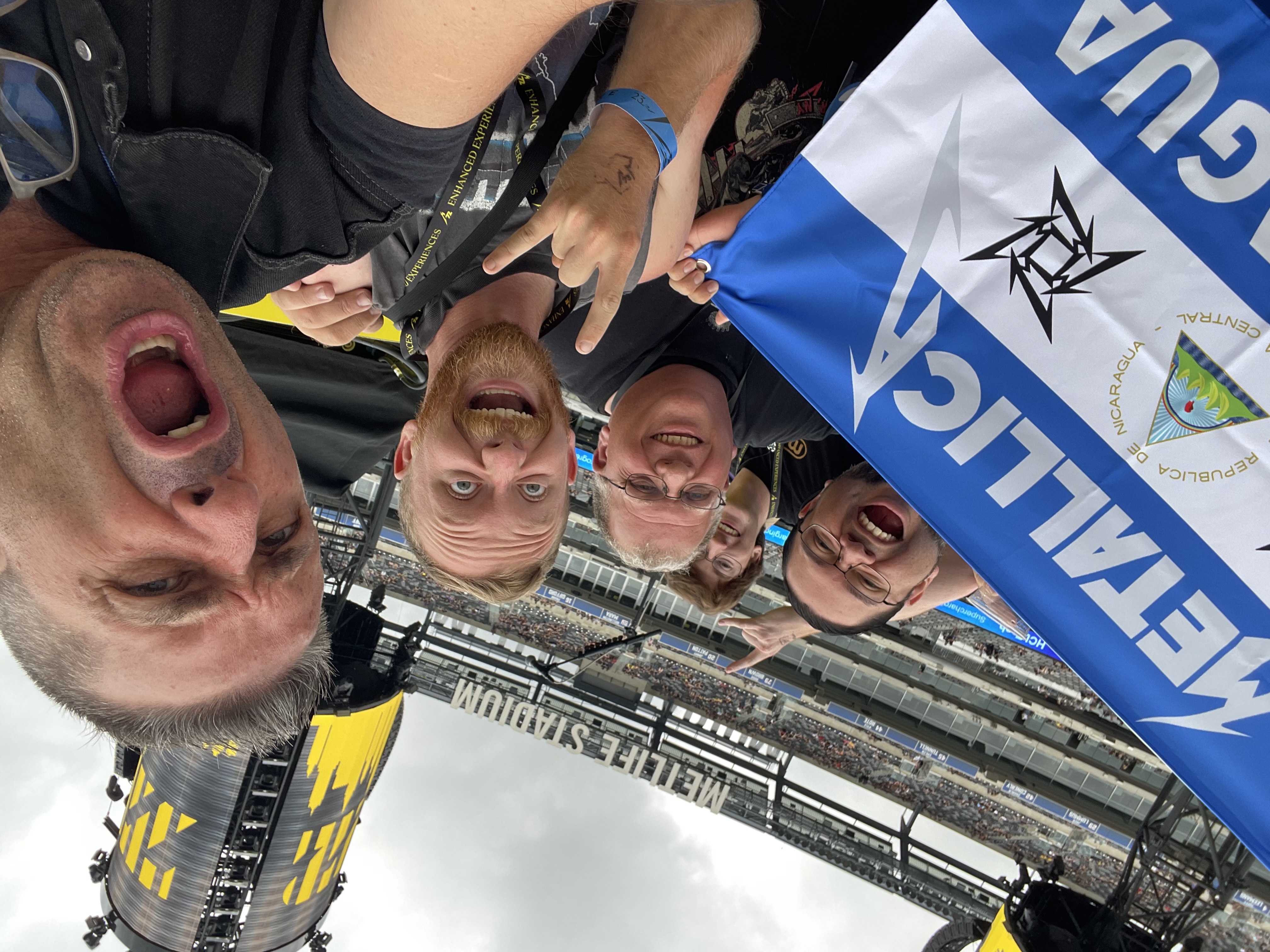 Killer fans and members of the Metallica Carpenter and Distribution Team.
No words can summarize this three day experience. The common bond we share with all of our "old" & "new" friends is the love for METALLICA and the Metal Community at large. As we build the Metal Mayhem ROC brand, its weekends like this & the people we meet along the way that makes the journey worthwhile!
Until next time, we appreciate all of the support and always remember to KEEP IT HEAVY!!!!
Jon "The VERNOMATIC" Verno & Lance "METAL WALT" Franco
GET SPECIAL MMROC SHOW UPDATES!
Become a part of a community of fellow metal heads who get updated on special episodes, interviews and and exclusive metal news.
We hate SPAM. We will never sell your information, for any reason.