Armored Saint and W.A.S.P.
Cleveland, OH – Cleveland Agora.
November 12, 2022
The W.A.S.P. / ARMORED SAINT 40 years live tour is in full effect and this show was sold out.
This show and tour have been selling really well since it launched 3 plus weeks ago in Vegas with sold out dates being a common place so far. Of course, it's the return of Blackie to Cleveland, but many feel it's the "DOUBLE BILL" with ARMORED SAINT that has the venues' selling out. There were lines that wrapped about the block awaiting to get in, with freezing temperatures. People were anxious to see this powerful show.
 Even though ARMORED SAINT is billed as an opening act, I have felt, along with many others, that this was a dual headlining tour. Along with W.A.S.P. they have been around since the early eighties. The two even toured together with a young METALLICA in 1985 that is still talked about today. They have gained street rep as A metal band that ALWAYS delivers the goods.
With the original core of the band still intact of John Bush on Vocals, the Sandoval Brothers- GONZO on Drums and Philip on Guitar, Joey Vera on Bass and Jeff Duncan Rhythm Guitarist taking over in 1989 for original guitarist Dave Pritchard who passed away in 1990.
John Bush Vox Photo by Dom Rini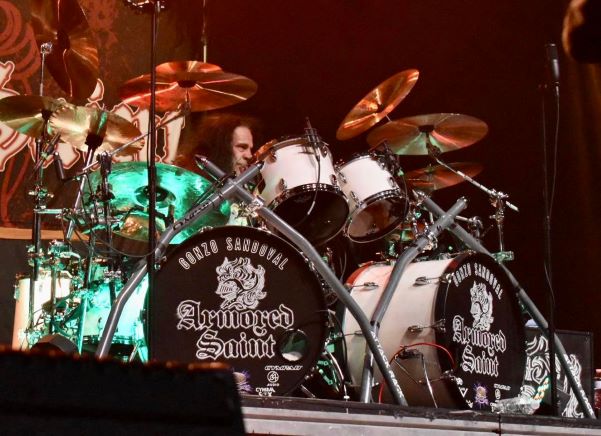 Gonzo Sandoval -Drums Photo by Dom Rini
Philip Sandoval - Lead Guitar Photo by Dom Rini
Jeff Duncan -Rhythm Guitar Photo by Dom Rini
Joey Vera- Bass Photo by Dom Rini
The band played about a 55 minutes career spanning set which rightfully so contained two songs from their 2020 release, PUNCHING THE SKY.
The set covered most of their career, tapping into the SYMBAL OF SALVATION and MARCH OF THE SAINT albums for several cuts from each. Highlight of the set for me was the "Can U Deliver", "March of the Saint" show closure. Always appreciated the vibe of the early material performed in the live setting. It just crushes!!
Jeff Duncan Photo by Dom Rini
Philip Sandoval Photo by Dom Rini
Philip Sandoval Photo by Dom Rini
The musicianship is there and it was a real nice treat to hear that power metal. Their lighting was great. You could see all the band members, and their sound was awesome. John Bush even took a walk down Heavy Metal Memory Lane and gave a shout out to both Cleveland Faithful and the Agora as the band recorded the 1988 Saints will Conquer live album in this venue. Good Stuff!!
Bush admitted during the show that he is a little under the weather and as it turns out, as I'm publishing this review, has pulled off of the tour for a few dates and is being filled in by Jason McAllister of the band DANGEROUS TOYS.
John Bush Vox Photo by Dom Rini
Joey Vera- Bass Photo by Dom Rini
50 mins seemed to fly by in a instant. When asked about a possible 2023 headline tour during a pre-show interview with the Metal Mayhem ROC Podcast , Joey Vera stated that they enjoy touring with other acts their size and to expose as many people to the ARMORED SAINT sound. Well mission accomplished Joey. If you didn't know who ARMORED SAINT was when you got there, you sure as hell knew who they were when you left. long live the March of The Saint.
Crowd Shot Photo by Dom Rini
As for a WASP. I haven't seen them since the eighties during one of those early tours. And honestly, they haven't been around the states. They've spent most of their time over in Europe with festivals and tours over there. So, this 40th anniversary tour was billed as a back to the beginning type of thing.
Blackie Lawless Photo by Dom Rini
Blackie Lawless and his Mic stand "ELVIS" Photo by Dom Rini
"ELVIS" - Photo by Dom Rini
The four-song medley that opened the show in my opinion, fell short. I get where they're coming from maybe get more bang for your buck. But I would have preferred to hear these tracks in their entirety.
They had a great background, an old circus theme and some freak show banners. They did have video panels constantly showing old achieve video footage and novelty assets to create a vaudeville type atmosphere.
Photo by Dom Rini
Photo by Dom Rini
From YouTube videos viewed, this production was very similar to some of those European tours with no real throwback to the BILLED "Heyday" slogan. The set list consisted of basically a lot of what they've been doing in the last 10, 15 years over in the Europe set with not much variance.
Because so many have never seen them live, they stuck to "Blind in Texas", "L.O.V.E. Machine", "Animal", "I Wanna Be Somebody" and many other classics.
The backup band consisted of Doug Blair on lead guitar, Mike Duda handling bass and Aquiles Prieste on drums. They were tight and killed it. They had great energy during the "Blind in Texas" and "Animal (Fuck Like a Beast)" block.
Doug Blair on lead Guitar, Photo by Dom Rini
Mike Duda handling Bass Photo by Dom Rini
Aquiles Prieste on Drums Photo by Dom Rini
The set list did clock in at 70 minutes, a bit short for a Headliner in my opinion. A lot of the downtime between songs seem to be excessive with the combination of an overextended video opening and some unnecessary B-roll footage. When added up, probably could have equaled another song or two.
Whether audio and visual wise, a highlight of the video screens was getting to see Chris Holmes and everybody else on the screens behind them during the show. He was missed to this reviewer.
And I, hate to be the one to bring this up, but there is a whole consensus going around, that there has been some lip syncing occurring on this tour. Though yet to be proven as "FACT", there were points throughout the show were the vocals sounded 'OVERLY STRONG" (WINK WINK).
During post beers discussion, the lip synch angle was brought up, and it was suggested by another party that part of a distraction for the lip syncing maybe was the reason for the back lighting. So, you can't see, Blackie as much? Just something for YOU to decide for yourself.
Overall, if you haven't seen WASP yet or in this case, 35 years ago, they do pack up some hits, and if you're into that type off presentation, then I'm sure you'll enjoy it. For my dollar though, the meat and the potatoes of the night was definitely ARMORED SAINT, but then again, I'm more of a meat n potato, Street level type metalhead. Just the fact that these bands are touring together in the states and giving us Metalheads a chance to go out and see live rock and roll is good for me.
GET SPECIAL MMROC SHOW UPDATES!
Become a part of a community of fellow metal heads who get updated on special episodes, interviews and and exclusive metal news.
We hate SPAM. We will never sell your information, for any reason.